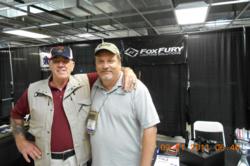 What Foxfury manufactures allows law enforcement officers to operate more efficiently in the field,
Vista, CA (PRWEB) September 28, 2011
FoxFury Lighting Solutions, designer and manufacturer of professional portable LED lighting, has signed on as the lighting sponsor of the NRA Law Enforcement Division. FoxFury has donated numerous LED headlamps, flashlights and utility lights as prizes at various NRA shooting competitions including the 2011 National Police Shooting Championships (NPSC) held last week in Albuquerque, New Mexico.
"NRA Law Enforcement is always working to improve the programs we offer to those who protect and serve. There are the armorer academies, shooting schools, tactical seminars, and a variety of shooting competitions. For the competitions, we are also constantly working to improve upon the prizes offered to the competitors," said Glen Hoyer, Director of NRA Law Enforcement.
Among the LED lights donated were Command Series headlamps, TX-0 Special Ops helmet lights, Rook Series flashlights and Scout Series utility lights. These are just a few of the lighting solutions that FoxFury offers for the law enforcement / first responder community.
"What Foxfury manufactures allows law enforcement officers to operate more efficiently in the field," said Hoyer. "Their generous donation will serve as prized awards for competitors at the National Police Shooting Championships and our Tactical Police Competitions."
FoxFury exhibited at the 2011 NPSC held last week at the Police Pistol Combat ranges at Shooting Range Park in Albuquerque, New Mexico. Congratulations to Agent Robert Vadasz of the United States Border Patrol who won his third grand championship.
"Foxfury is extremely proud to be a supporter of the NRA police pistol shooting competition. The NRA is a great organization. You can't hit what you can't see, so lights and shooting go hand in hand," said Tim Ellwood, LE / Military Sales Manager for FoxFury.
About the NRA & NRA Law Enforcement Division:
The NRA as an organization has been providing firearms training, competition, and safety programs since its inception in 1871. Political issues aside, it has long been considered the leading authority in the promotion, instruction, and certification of safe, effective, firearm handling, and has been doing this longer than any other organization in the world. Over the last 50 years, the NRA has trained more than 50,000 law enforcement firearm instructors and currently have over 11,000 instructors. The Law Enforcement Division (LED) of the NRA was established in 1960 specifically to provide the law enforcement community with a "certified" and standardized law enforcement firearm instructor training program. http://www.nrahq.org/law/
About FoxFury:
FoxFury Lighting Solutions creates unique and cutting edge lighting products that reflect the needs of our customers, who demand quality and dependability. FoxFury is best known for its niche LED headlamps designed for specific markets including Fire, Industrial, Hazardous Area, Law Enforcement, Forensics and Recreational. FoxFury was formed in August 2003 and operates out of Vista, CA USA.
# # #