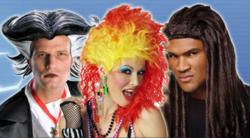 Recent celebrity performers such as Katy Perry, Lady Gaga and Nicki Minaj have created trends with the colored wigs they have worn.
Mancos (PRWEB) September 28, 2011
Costume wigs have become a popular Halloween accessory at TotallyCostumes.com. The online costume store has reported that wigs for costumes have become high in demand by their customers. To answer requests, they have brought in hundreds of new styles and colors into their costume wig collection.
Their selection of Wigs for costumes have been categorized so that customers can shop by color, cut, theme, time period and gender. Costume wigs are available for a variety of movie characters and famous celebrities. TotallyCostumes.com believes that the consumer can have a pleasant shopping experience with the specific categories they have created for their vast selection of costume wigs.
"Trends show that the consumer will search for cheap costume wigs," explained Nova from TotallyCostumes.com. "And we offer high quality costume wigs at inexpensive prices so that our customers can have the best of both worlds."
Halloween wigs make a phenomenal accessory for enhancing character costumes. If shopping by color, the consumer can find vibrant cosplay wigs in red, purple, green, orange and blue to name a few. Those looking to realistically alter their appearance can choose from auburn, brunette, black and blonde costume wigs. Not just for women, the costume wigs are broken into categories for kids and men. TotallyCostumes.com also allows the consumer to shop by cut for styles such as curly, short bob, pixie, spiked, mullet and long costume wigs.
The colored wigs can bring a fun, funky or flirty look to both Halloween costumes and everyday attire. Recent celebrity performers such as Katy Perry, Lady Gaga and Nicki Minaj have created trends with the colored wigs they have worn. Other celebrities such as Britney Spears, Kate Hudson and Paris Hilton have been spotted over the past year in vibrantly colored wigs. Pink costume wigs have become a creative choice for breast cancer awareness events.
Shopping for era wigs are made easy at TotallyCostumes.com with their time period category. Powder wigs can be found in the 17th and 19th Century costume wig collection and the 19th century selection boasts of Southern Belle, Saloon Girl, Farm Girl, Southern Colonel, Buffalo Bill and Uncle Sam styles. Gangster and Flapper Girl wigs can be found in the 20s Wigs and pin-up girl styles can be found in the 40s wigs. The 50s wigs feature greaser, bopper, Peggy Sue, pompadour, quiff and flip styles. The 60s wig collection boasts of hippie styles and the 70s wig collection boasts of the disco styles. There are plenty of dreadlocks, long and natural, go-go girl glam and afro wigs for the hippie and disco characters to choose from. The 80s wigs will feature all the wild colors and big volume of the rock star icons.
Nova from TotallyCostumes.com promised that the fans of cosplay and Halloween can expect the online wig store to grow each year with new styles, colors and themes at inexpensive and competitive prices. Costume Wigs for Halloween, cosplay and fashion are one of the categories that have been expanded and will continue to grow into 2012.
About the Company:
TotallyCostumes.com, a leading retailer of costumes and costume accessories for all occasions, makes sure the party never stops! This e-commerce costume retailer believes in carrying a large selection of high quality costumes in all sizes, styles and themes to fulfill any party, costume or event requirement. They have a dynamic team that works together so their customers receive their order quickly. Their friendly customer care team is dedicated to providing their customers with diligent service while their shipping facilities work efficiently in shipping your order out as quickly as possible.
###