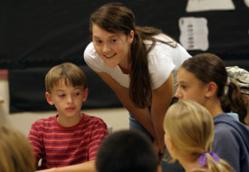 Newberg, Ore. (PRWEB) September 28, 2011
In keeping pace with technological advances in education, George Fox University is now supplying all incoming students to its master's degree in teaching program with Apple's new iPad 2 device.
Beginning with this fall's cohorts, candidates in the university's Master of Arts in Teaching program – offered at the school's Newberg, Portland, Salem and Redmond locations – will receive the iPad 2 as part of their tuition. The decision reflects a national trend toward using more electronic devices in the classroom.
Linda Samek, dean of the George Fox School of Education, said the reasons for implementing the iPad distribution program are twofold.
"The first is that we have a strong commitment to preparing future teachers who are as far ahead of the educational curve as possible," she said. "Secondly, it is more economical for our students to purchase a digital textbook than a print textbook."
Samek said candidates have the option of buying their textbooks in either digital or hard copy versions. "The iPad will give them a number of good options that we think will enhance their education," she said.
To date, more than 30 iPads have been distributed. An estimated 125 master of arts in teaching students in George Fox's Oregon programs annually will receive the devices. George Fox has one of the largest teacher education programs among Oregon's private colleges.
The iPad 2 allows students to download iBooks, PDF notes or other reader applications. They are ideal for working with course syllabi and other handouts, as well as for sharing documents and course notes. It also opens up a vast amount of educational interactive online tools and curriculum.
"I think the iPad's most valuable contribution in this time of scant resources is the access it provides to online resources," said Samek, who is helping develop iPad applications for teaching math.
The decision puts the George Fox School of Education on the cutting edge of classroom technology – and provides teaching candidates a training ground for using such devices in their future classrooms.
"This decision provided an opportunity to be out front, and with the increasing use of iPads in K-12 classrooms, it is important that our graduates understand how to leverage them for learning for all kids and for themselves," Samek said.
George Fox offers three formats in its Oregon Master of Arts in Teaching program – a full-time, three-semester format at its Newberg campus that begins in mid-June; a four-semester "In Your Community" part-time format that begins in January in Portland, Newberg, Salem and Redmond, Ore.; and a five-semester "MAT at Night" part-time format the starts in late August at its Portland Center location. Both part-time offerings meet one evening per week and approximately one Saturday a month.
Applications are currently being taken for the MAT "In Your Community" format. Applications can be made at apply.georgefox.edu.
George Fox's Master of Arts in Teaching program offers initial licensure at all four levels of authorization – early childhood, elementary, middle school, and high school. MAT candidates earn two authorizations at adjacent levels and choose between early childhood/elementary, elementary/middle school or high school/middle school.
For specific program information, visit mat.georgefox.edu.
The university's Master of Arts in Teaching program is one of several graduate education degree programs offered at the institution. George Fox also offers a Doctor of Education, a Master of Education, an Educational Specialist degree, an Education Specialist in School Psychology program, endorsements in ESOL, library media and reading, and administrative licensure programs.
George Fox University is ranked by Forbes among the top Christian colleges in the country. George Fox is a Christian university classified by U.S. News & World Report as a first tier regional university and a "Best Value" school. More than 3,500 students attend classes on the university's campus in Newberg, Ore., and at teaching centers in Portland, Salem, and Redmond, Ore., and Boise, Idaho. George Fox offers bachelor's degrees in more than 40 majors, degree-completion programs for working adults, five seminary degrees, and 11 master's and doctoral degrees.
Contact:
Linda Samek
Dean, School of Education, George Fox University
503-554-2871
###