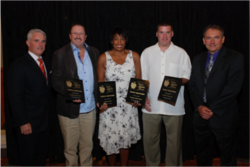 Montego Bay, Jamaica (PRWEB) September 28, 2011
All-inclusive Caribbean resort chain, Couples Resorts, has received Apple Vacation's Golden Apple Award for every resort within the brand. All four Couples Resorts were awarded the company's Golden Apple at an awards ceremony held in Chicago, IL on September 13, 2011.
Couples Negril received a Crystal Apple award, one of the most coveted in the travel industry, for Best Staff & Service in the Caribbean area. "I am so proud of the entire team at Couples Negril who every day display such hard work and dedication. It is extremely rewarding when this is acknowledged," stated Karen Lanigan, General Manager for Couples Negril. "I am really excited about winning this award as it came through the rating of our guests," she added.
Couples' Senior Vice President of Sales and Marketing Randy Russell was at the event to receive the award on behalf of Couples Resorts. "As we've always said, it is these awards, the ones voted on by the consumer, that mean the most to us and that we are most proud of," Russell said.
Award recipients are chosen based on vacation satisfaction questionnaires completed by Apple vacationers upon their return home. Hotels and resorts are evaluated on the quality of its products, installations and services. The Golden Apple is only awarded to those hotels and resorts with the highest standards of excellence and exceptional hotel operations.
Couples Tower Isle, Couples Sans Souci, Couples Swept Away and Couples Negril each received the award. "It makes sense that if one resort were to receive this accolade, then all four would because we make sure that they all uphold the highest standards; paying particular attention to providing exceptional and personalized service," commented Russell.
About Couples Resorts:
Couples Resorts, headquartered in Montego Bay, Jamaica, owns and operates four properties in Jamaica – Couples Tower Isle, Couples Sans Souci, Couples Swept Away and Couples Negril. Pioneered by the legendary Abe Issa, "father of Jamaican tourism," each Couples Resort is an unsurpassed model of the all-inclusive resorts concept, boldly designed with local inspiration to create a harmonic sense of nature and authentic Caribbean spirit. For over 33 years, Couples has delighted guests and refined the Caribbean all-inclusive resort experience by providing unparalleled service, exceptional dining experiences and exclusive added value inclusions. For further information please visit http://couples.com/.
###