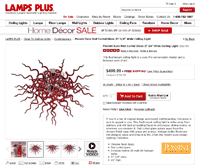 The upgraded site aims to create a new and improved shopping experience for the Lamps Plus customer.
Chatsworth, CA (PRWEB) September 29, 2011
LampsPlus.com last week unveiled a newly enhanced website for its online lighting store based on extensive user feedback. The upgraded site aims to create a new and improved shopping experience for the Lamps Plus customer.
The redesign of the leading home decor and decorative lighting store is an evolution of the existing shopping site, and is the result of rapid product expansion and user growth over the last several years. The well-known lamp and lighting fixture retailer, has most notably continued its growth into home decor, chairs and furniture. The company is currently ranked 8th in the housewares-home furnishing category of the recently released Top 500 Guide (2010 edition) by Internet Retailer Magazine.
One of the major website changes is the switch to a wider website template design. The wider home page layout includes a large, rotating display area for highlighting product categories and sales, with changing messages and graphics. A new horizontal slider area sits below the rotating display, highlighting designer brands, departments and special values. Both areas allow for more messaging and click points, encouraging increased customer interaction and exploration of deeper levels of the site.
Commented Angela Hsu, Vice President of Internet Marketing for Lamps Plus, "We are incredibly excited about the new look and features of LampsPlus.com. First impressions are priceless, and this next step offers significant enhancements to our online browsing, making our shopping experience faster and easier than ever."
The product page layout and user experience has also been completely redesigned. After extensive user testing, the page has been updated to create a clean look and feel, as well as accommodating a significantly larger main image size. In addition to larger images, the changes include new in-scene room photos and larger close-up images that give shoppers an even better experience before they buy. Pages have a new underlying architecture to run 75-percent faster, even with the larger image size.
Other improvements include a new layout for the product description, including feature highlights, sizes/dimensions and other details. Separate tabs display related items and product reviews made by other Lamps Plus customers who have purchased the product. A new Facebook Like function allows users to recommend the product with family and friends across social networks. The page design also accommodates a new call-out for product videos and a larger video player.
Additionally, the Lamps Plus lighting and home décor product pages now support Certona driven personalized product recommendations. The software is the market leading personalization optimizer for a wide range of online and multi-channel retailers. The Certona recommendation engine takes into account a user's browsing history and combines it with larger site browse behavior and purchasing relationships. Recommended products are dynamically displayed on the product page below the main product image.
Commenting on the new feature, Hsu noted that, "We are looking to Certona to offer our customers an improved shopping experience by helping people find products of interest to those with a similar browsing behavior. Automating the recommendations should enhance the usability and look of our product pages, and should increase the value of each visit for our customers over time."
Other site changes include enhancements to the popular Design-It Lighting page to allow customers to make custom lamp shades with metal trims, and improvements to the shopping cart and to the site's Wish List feature. Lamps Plus plans to make additional changes to the site over the next several months. Surveying all of the changes made to the company's online lighting store, Hsu said, "We are always looking for ways to improve and refine the customer experience. The website is never done, it's always changing and getting better, so all of the changes we've made are just a part of that natural growth process."
About Lamps Plus
For over 30 years, Lamps Plus has been synonymous with excellence in the lighting retail industry. Established in 1976, Lamps Plus is the nation's largest specialty lighting company, with over 40 superstores throughout the western United States. Together with their retail stores and online business, Lamps Plus serves over five million customers each year with the largest selection of functional and decorative lighting fixtures, accessories, furniture, and home decor. This selection includes hundreds of products available exclusively from Lamps Plus. Services include free in-home lighting consultations, in-store lighting seminars and installation from expert, licensed electricians. American Lighting Association certified lighting designers are available to offer product recommendations and lighting advice in all our stores, by phone or online at Lamps Plus. Please contact PR(at)LampsPlus(dot)com for more information.
###