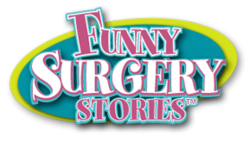 We take the extra step of omitting any and all identifying details from stories before they're posted.
Birmingham, AL (PRWEB) September 28, 2011
FunnySurgeryStories.com has become the premier place for fun, laughs and drama from the operating room. The site's slogan "Love and Laughs, Life and Death in the OR," encapsulates the types of humor being submitted by surgery personnel.
With the threat of being fired for a HIPAA violation constantly looming over the heads of medical provider employees, people are scared to talk about anything that happens at the hospital or office.
FunnySurgeryStories.com is the only venue through which OR surgeons and staff can share their work experiences in a completely anonymous manner.
Site creator Julie Ryan claims, "Social media is the way our society communicates with one another about our personal and professional lives, unless one works in the medical field. Every operating-room employee tweet and Facebook posting is a potential lawsuit in the eyes of hospital legal departments."
Mercy Walworth Medical Center in Lake Geneva, WI fired two nurses who used their cell phones to take a picture of a patient's X-ray and discussed it on their Facebook page.
A Twitter tweet by an administrative assistant at University Medical Center in Jackson, MS to Governor Haley Barbour suggesting he consider scheduling medical exams during normal business hours instead of when clinics are usually closed resulted in the employee being strongly encouraged to resign.
When questioned about the incident, a hospital spokesperson said, "Disclosing a patient's protected health information is a policy violation that we take very seriously. We will do whatever is necessary to protect the privacy of our patients. An investigation of this matter was pending and the employee resigned, so we consider it closed."
Every story anonymously submitted to FunnySurgeryStories.com is vetted for HIPAA compliance before being posted. Ryan says, "Our site is intended as a fun, stress-relieving place where OR folks can share their work experiences. Although we remind story contributors to remember HIPAA, we take the extra step of omitting any and all identifying details from stories before they're posted."
FunnySurgeryStories.com is a membership free website and can be found on Facebook at http://www.facebook.com/funnysurgerystories and Twitter @funsurgstories.
###