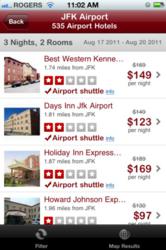 The app, in itself, will be an instrumental travel tool for the next decade."
(PRWEB) September 28, 2011
AirportHotelGuide.com, the original airport hotel directory on the web now offers hotel-booking services on the iPhone and all iOS devices. The app uses state of the art technology and offers an upgraded hotel inventory without losing sight of Airport Hotel Guide's primary goal of providing affordable and targeted hotel accommodations. The Airport Hotel Guide app unlocks 200,000 hotels near 37,000 airports and cities worldwide, providing hotel solutions to any kind of traveler and travel need.
This new expansion of services comes from understanding that hotel reservations often need to be made away from a home or business computer. Plans often change and Airport Hotel Guide created the app to ensure that a family looking for a hotel during a long road trip, a business team needing a hotel after a long convention or a student whose flight was cancelled due to inclement weather can all find a hotel nearby and book a hotel room as quickly as possible.
The Airport Hotel Guide app offers advanced and same day reservations, allowing users to search for specific hotels and even filters search results by hotel name and hotels offering airport shuttles. Before booking a hotel, the app offers the ability to browse hotel reviews, photographs and descriptions, ensuring that users find the perfect hotel room. Need to book a hotel room as quickly as possible at a hotel nearest to your location? The Airport Hotel Guide app has implemented a "shake to search" feature that will display hotel results near your current location at any time.
"The new iPhone app from Airporthotelguide.com is a one of a kind travel tool that allows travelers to locate hotels near airports across the globe" says Tony Economou, President of Airporthotelguide.com. "The app presents an easy to use format which offers the ability to book a room in a few easy steps. The app's shake technology will help passengers who have flight delays or cancellations to find rooms quick and easily wherever they are stranded. Our special negotiated rates are discounted and offer up to 30% off hotel rack rates. The app, in itself, will be an instrumental travel tool for the next decade."
Throughout development Airport Hotel Guide ensured that users will find the same easy to use and easy to navigate structure on the app that is found on the website. Those that have trusted Airporthotelguide.com in the past can continue to put their confidence into the app. Returning customer Jason Haynes said, "The app found right where I was and helped me book a hotel right around the corner. It was so easy to use and offered great prices too. Awesome hotel booking app."
Since 1999, Airporthotelguide.com has been the premier hotel booking service for hotels, motels, and inns near airports worldwide. Through the website, travelers find special promotions, discounts, meal vouchers and even free nights at thousands of hotels. With the release of the new iPhone app, Airport Hotel Guide delivers their superior services and booking solutions to the mobile devices of travelers everywhere. No matter the travel need or situation, a hotel is always nearby with Airport Hotel Guide.
Use Airport Hotel Guide and find hotels everywhere you are and everywhere you want to go. Get the App.
###