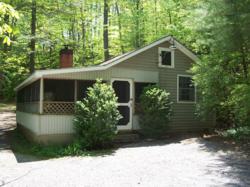 It's like we have family all over the world!
Waynesboro, VA (PRWEB) September 28, 2011
This year, 2011, marks the 30th anniversary of Cabin Creekwood. This Virginia vacation rental business began in 1981 when Stan & Mary Jane Shirk came upon an opportunity to purchase a small hunting cabin just across the road from their home in the Blue Ridge Mountains. Stan was pastoring a local church, Mountain View Mennonite, at the time, and after thinking and praying about the idea, decided to move ahead with the purchase of the cabin. They advertised a little, but word-of-mouth proved to be the most effective means of gaining new clients.
Over time, the cabin became so popular that they were turning away as many folks as they were accommodating, so they built another cabin, this one within sight of their home. A few years went by, and a third was necessary to keep up with the demand.
Fast forward to 1995. By this time, the Shirks had expanded to 5 cabins – the three which they owned, and two more which they had opportunity to lease. Five cabins became more work than they desired to continue part time, so they offered to sell the business to their daughter Debbie and her husband Stan Horst (yes, she did marry a man with the same name as her dad)!
The offer came at a perfect time for Stan & Deb. Stan had recently finished studying computers, accounting, and business in college, and his first job out of school was not a great fit. After a lot of prayer and extensive number crunching, Stan & Deb decided that they could make a go of it full time if they could add two or three more cabins. At that same time, a property about three miles away became available. This property had a three-bedroom home, a pre Civil-War log cabin which was a craft shop, and a two-car garage. The property was purchased, and with the help of a local contractor, the craft shop and garage were both modified to become one-bedroom cabins.
Since that time, Stan and Deb, along with their two children and famous rat terrier named Toby Jax, have added an additional cabin and welcomed countless vacationers from all over the world. Although most of their guests are local to the state of Virginia, they have hosted families from many foreign countries, including China, Australia, Germany, England, Bahrain, and the Netherlands. Word of mouth was popular in the beginning, and it is still a prominent way for people to find out about these cabins. Stan's favorite story is of the English family who stayed with them a week during one summer. This family returned to England, and were so excited telling their neighbors about their getaway, that the next year, Stan & Deb had the privilege of hosting this word-of-mouth referral from across the ocean!
Today, the internet is the most common way for people to find out about Cabin Creekwood. But regardless of how people find out about them, Stan says that interacting with guests is the most rewarding part about this business. "We've been here for sixteen years, and we have many guests who have returned annually for that same length of time. It's like we have family all over the world!"
Find out more about these Virginia cabin rentals at http://www.cabincreekwood.com.
###