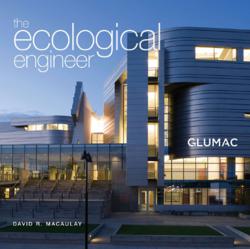 The Ecological Engineer: Glumac provides an exceptional opportunity for green building professionals to learn how to take innovative ideas and apply them successfully to projects that provide long-term energy savings.
Portland, Ore. (PRWEB) September 29, 2011
Glumac, one of the country's leading sustainable mechanical, electrical and plumbing (MEP) engineering firms, will unveil a new book about its work that fills a substantial void in green building literature. Attendees at the U.S. Green Building Council's annual Greenbuild show in Toronto this October will be the first to view and purchase The Ecological Engineer: Glumac (Ecotone Publishing, 2011).
The Ecological Engineer: Glumac gives readers an in-depth perspective on the essential role that building systems engineering plays in sustainable design. It also highlights practices and principles needed to push sustainable design for commercial buildings toward high-performance outcomes.
"We selected projects to profile in The Ecological Engineer: Glumac that detail the best current practices of sustainable engineering and that represent leading examples of green buildings that work," says Steven Straus, President of Glumac.
"The Ecological Engineer: Glumac provides an exceptional opportunity for green building professionals to learn how to take innovative ideas and apply them successfully to projects that provide long-term energy savings," says Robert Packard, president of Zimmer Gunsul Frasca Architects, whose new "double LEED® Platinum" Twelve West building in Portland is profiled in the book.
Written by veteran green building author David R. Macaulay, the book is published by Ecotone Publishing, the publishing house led by eco-visionary Jason F. McLennan, CEO of the Cascadia Green Building Council and founder of the Living Building Challenge.
"Engineers are essential to realizing architects' and owners' innovative visions and to creating the future we all need," says McLennan, "Glumac is one of the few engineering firms at the front lines of the green building revolution, and here is the illustrated manual that shares the practices we all need to redefine our future."
Through detailed illustrations and insightful narrative, The Ecological Engineer: Glumac takes readers on a tour through the sustainable design features of the firm's work and draws from many of the firm's projects, giving special focus and in-depth examinations of selected buildings that have helped define the West Coast's leadership in sustainable design:

Twelve West Building, Portland, Oregon: a 22-story office and residential building using wind and solar power that received two LEED Platinum certifications: one for commercial interiors and one for new construction.
The Gerding Theater, Portland, Oregon: a LEED Platinum historic renovation that incorporates a district energy system, a technique that green building experts believe is essential to addressing urban energy challenges.
Oregon State University's Kelley Engineering Center, Corvallis, Oregon: the first LEED Gold academic engineering building in the nation and a living laboratory for students who will become tomorrow's sustainable engineers.
Wayne L. Morse U.S. Federal Courthouse, Eugene, Oregon: the first federal courthouse to receive LEED Gold certification.
Harvey Mudd College, Claremont, California: The new "teaching and learning center" has a goal of achieving LEED Platinum certification. The center will include use of renewable materials and sustainable engineering technologies.
About Glumac
Founded in 1971, Glumac offers innovative designs that preserve architectural integrity while ensuring an efficient building, lower capital and operating costs and occupant comfort. As experts in sustainable design engineering, Glumac has more than 90 LEED APs on staff and has developed more than 200 LEED certified and registered projects for government, institutional and private clients. With more than 200 talented employees across ten offices - nine in the Western U.S. and the newest in Shanghai - Glumac's collaborative environment generates ideas and solutions that consistently produce exceptional projects. Glumac celebrates 40 years of business this year. For more information, visit glumac.com.
About Ecotone
Ecotone Publishing is dedicated to meeting the growing demand for authoritative and educational books on sustainable design, materials selection and building techniques in North America and beyond. Ecotone is part of the International Living Future Institute, an environmental NGO dedicated to leading the transformation toward a world that is socially just, culturally rich and ecologically restorative. The Institute, creator of the Living Building ChallengeSM, is a leading force within the green building and global resiliency movements.
###