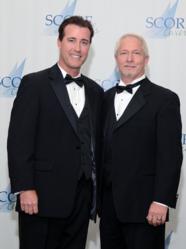 The exposure through the contest has been amazing and has opened new doors for growth. We've already received positive interest and heightened awareness as a result. The flight awards will assist us in reaching out to more people in need.
Nashville, TN (PRWEB) September 28, 2011
American Airlines and its small business mentoring partner, SCORE, announced the Grand Prize winner of its "Flights.Camera.Action" contest at the 2011 SCORE Awards Gala in Washington, D.C. on September 15. Hope Force International, from Brentwood, Tennessee was awarded more than 100,000 Business ExtrAA points – enough for 50 domestic round-trip tickets. The winner will be featured on American Airlines inflight television, a full-page ad in American Way magazine, banners on AA.com, and more.
"The air travel and the media exposure we have received from the contest has been amazing and has opened new doors for growth," said Jack Minton, president and chief executive officer of Hope Force International. "We've already received positive interest and heightened awareness as a result of the media exposure to date. The flight awards will assist us in reaching out to more people in need."
Hope Force International (HFI) is a not-for-profit organization that mobilizes thousands of volunteers into areas of crisis around the world. They were chosen through a public vote for 50 semi-finalists from hundreds of videos entered, which represented a cross section of industries and geographic regions from around the country. HFI specializes in disaster response and preparedness. The organization is built on the premise of providing rapid response teams to disaster areas within 48 hours of an incident through their network of trained responders.
A panel of esteemed judges selected Hope Force International for articulating the most compelling case for how travel and media exposure to American's customers could affect substantial growth for their company or non-profit.
Disaster response teams from Hope Force International recently deployed into the aftermath of deadly storms and hurricanes across the east coast of the United States. Hurricane Irene marched across a dozen states leaving torrential rains, flooding and mudslides. Packing winds of more than 80 MPH, Irene left millions without power and dumped torrential rains on Vermont, flooding rivers and closing roads. Parts of two towns were underwater and National Guard helicopters rushed food and water to a dozen Vermont towns cut off by flooding.
"Hope Force has been instrumental in forming a Recovery Committee in the area and advising local and state officials on the most productive way forward in recovery efforts," Minton explains. "HFI is providing case manager training to enable quality individualized attention on those who have lost homes or property. Trained counselors were deployed to the area as part of the response efforts to address the very real after effects of disaster situations – fear, despair, hopelessness, etc."
Recognizing the economic pressure on small businesses and non-profits, American Airlines stepped up its long-standing commitment to those entities in 2011. American partnered with organizations like SCORE, which helps small businesses succeed through mentoring and training, the U.S. Chamber of Commerce, and start-up business accelerators to provide critical travel resources to small businesses to help them grow and generate new jobs. Earlier this year, American conducted an online survey of more than 2,600 small and medium-sized business employees. Survey results indicated that approximately 64 percent of the employees surveyed believe face-to-face meetings requiring airline travel are crucial to the success of their business.
"Severe storms can strike anywhere – in poverty-stricken areas, or in upscale neighborhoods," Minton continues. "The outcome is always the same: people in shock...deeply traumatized... needing to know there are people who are willing to come alongside and bring desperately needed help." Hope Force specializes in training individuals for the arduous task of disaster response. The course includes two days and two evenings of preparation for service. This training is required to be considered as a Hope Force Reservist - eligible for rapid deployment, often within 24 to 48 hours following a disaster event. The next Hope Force disaster response training is scheduled for October 27 to 29 in Nashville.
Hope Force International spent more than four years in Gulf Coast communities assisting in recovery efforts after Hurricane Katrina. "Our vision is to equip and empower willing responders to serve in immediate aftermath and recovery efforts, whenever and wherever disaster strikes," Minton says. "Hope Force International has experienced rapid growth as people around the world respond to the cries of help from those who are suffering."
As a leading non-profit organization dedicated to disaster response, Hope Force is comprised of individuals who are dedicated to utilizing their expertise to inspire, equip and mobilize volunteers into areas of crisis around the world. Founded by Jack and Cherie Minton in 2003, Hope Force endeavors to become a leading volunteer response force, bringing hope to those affected by crisis or disaster.
As an agency dedicated to "A compassionate response to crisis and disaster" staff members and Reservists are committed to providing individualized attention and assistance to those affected by natural disasters, such as those experienced in Japan and Haiti. Hope Force also has programs targeting the "hidden poor" in Appalachia as well as those recovering from the 2010 floods in Nashville and Central Tennessee. The organization has actively been involved in Haiti since the earthquake of January 2010, which is estimated to have taken 230,000 lives.
More information about Hope Force can be found at the website http://www.hopeforce.org.
*Hope Force International is a national partner of the Salvation Army, with a signed Memorandum of Understanding that provides a protocol for partnership in times of significant disaster events.
###