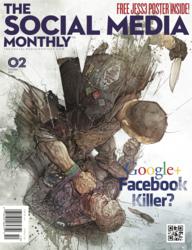 Right now, there are some things you just can't reproduce in a digital format, like a reusable sticker or a wall poster.
Washington, DC (PRWEB) September 29, 2011
Washington, DC-based technology group, The Cool Blue Company LLC announces availability of the second issue of The Social Media Monthly magazine nationally at Barnes & Noble booksellers, with international distribution in Canada, Australia, New Zealand, the United Kingdom, Germany, Sweden, Norway, Finland and Denmark. The Social Media Monthly is also available as a standalone flash digital e-zine and as a downloadable app in the iTunes store.
The October issue features a cover design and a special double-sided pull-out poster by DC based design firm JESS3. Portraying an intense struggle between social media behemoths Google and Facebook, the cover story, written by Mike Brown (aka @BrainZooming), begs the question: "Google+ : Facebook Killer?" In addition, the second issue introduces a monthly column focusing on startups in the social media space produced by media company Tech Cocktail.
Feature articles include an exploration of social media's impact on the Vancouver hockey riots by Lauri Stevens (@lawscomm); a view of the new Fall TV season and social media's adoption by Shorty Award Winner Carri Bugbee (@CarriBugbee); an introductory article about the concept of online influence by Social Fresh founder Jason Keath (@JasonKeath); a case study on Verizon's use of social media for customer service by Becky Carroll (@bcarroll7); the Red Sox Nation expansion into social by Rose de Fremery (@rosedefremery), and a feature interview with Klout founder Joe Fernandez.
"The upcoming November issue has received a 50% order increase since our launch issue just six weeks ago. It will expand our international footprint by two more countries with Spain and Portugal, and will be carried throughout Canada by the Chapters/Indigo bookstore chain and Walmart Canada" said Robert Fine, founder of Cool Blue Company. http://TheSocialMediaMonthly.com "We will continue to try and do things that keep print fresh and readers interested in having a print copy of the magazine. Right now, there are some things you just can't reproduce in a digital format, like a reusable sticker or a wall poster."
About The Cool Blue Company LLC
Robert Fine is the founder of Cool Blue Company, LLC, and author of "The Big Book of Social Media Case Studies, Stories, Perspectives". Robert has over 17 years experience as a systems and sales engineer with various companies including CMGI, Hughes Network Systems, and most recently as Senior Director of IT for Global Strategy & Development at Conservation International (CI). He is currently pursuing his PhD at George Mason University where he is researching links between investments in information technology and achieving conservation outcomes.
About Tech Cocktail
Founded in 2006 as a simple community-building event, Tech Cocktail has morphed over the years into a full-fledged tech news blog and media company with thousands of fans, followers and supporters across the globe. Tech Cocktail has hosted local mixers, breakfasts, conferences, festivals and other events across the country that have attracted thousands of attendees, helping entrepreneurs by educating as they showcase their latest achievements and the local technology communities they live in.
###