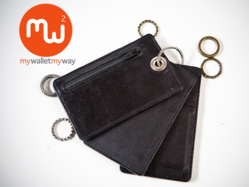 San Diego, California (PRWEB) September 28, 2011
MW Square is pleased to announce that it has launched the Waly Project on Kickstarter.com. With the Waly Project, MW Square aims to raise enough capital ($11,000.00) to complete a production run and launch the Waly, a wallet line, on http://www.mwsquare.com.
Why Reinvent the Wallet? By reinventing the wallet, MW Square allows individuals to create a custom wallet. The Waly, is a modern take on the classic wallet. Available in 1 of 3 designs, the Waly can be used as a standalone wallet or can be layered to create a larger wallet to fit individual needs. Once a custom wallet is created, the layers can be decoupled at any time. The Waly design also eliminates the need for pockets or a handbag as it can be hooked to a belt loop, keychain, necklace, etc. With such a unique design, men and women alike can have, at a minimum, their ID on them at all times.
Kickstarter.com is the perfect platform to use to fund the Waly project. With this idea of community funding, creative projects such as the Waly Project, can see the light of day in this tough economy. In addition, with kickstarter.com, pledges can be made for as little as $1.00. For every pledge made to the project, contributors are rewarded by the project sponsor.
The Waly project has created several pledge categories, starting from $1.00 up to $1,000.00; reward categories include single Walys and a three layered Waly wallet.
For more information on the Waly project, visit http://www.kickstarter.com/projects/1065663711/the-waly-project
For more on MW Square, visit http://www.mwsquare.com
###