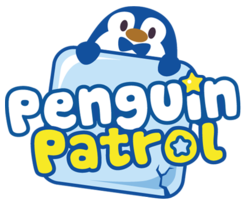 Penguin Patrol represents a huge opportunity for Grab Games," Says Anthony Borquez, "Our first priority is to develop fun and intuitive games, so I know we were delivering on that promise when I realized my youngest and I are competing for the most stars.
Los Angeles, CA (PRWEB) September 28, 2011
Grab Games LLC and Intrinsic Games LLC launches Penguin Patrol, a charming and challenging puzzle game on the App Store where players must rescue everyone's favorite flightless birds from the vile clutches of the evil (but oddly stylish) Walrus!
In Penguin Patrol, players must carefully navigate the different kinds of terrain through over 50 levels of the Antarctic wilderness in order to successfully rescue the penguins and bring them to safety. With each step taken, the ice beneath breaks so players are literally walking on thin ice. The ground (or lack of) isn't the only challenge faced by players, though—the penguins themselves can be temperamental, and each type has their own unique personality traits. Players will have to wrangle the overly-excited Playful Penguin who runs away as it is approached, push the Fatty Penguin to safety, or figure out how to entice the stubborn Bratty Penguin to get on board! One to three stars are awarded based upon your performance on each level.
Created and developed by Intrinsic Games, Penguin Patrol features Game Center and Retina Display support. Penguin Patrol is $0.99 and is available now through the App Store. For more information, including screenshots and video, please visit http://www.penguinpatrol.com.
[About Intrinsic Games]
Intrinsic Games is a handheld developer formed by alumni from the University of Southern California (USC), best known for creating the IGF award-winning "Divergent Shift", a dual screen platformer that was distributed by Konami on the DSiWare store. Since then, the core team at Intrinsic joined with Grab Games for the role of Grab's developer of in-house mobile and handheld titles.
[About Grab]
Grab is one of the fastest growing tech start-ups in Los Angeles. In the past nine months, the company has hired 50 employees. Grab also maintains offices in San Diego, CA, Japan, Vietnam and the Philippines.
Grab is led by CEO Anthony Borquez, coming from his role as VP of Mobile and Online Business for Konami as well as being the Founder of the Game Development track at the USC School of Engineering, which has birthed the careers of many video game industry leaders. Anthony has assembled a team that has experience in Engineering, Product Development and Marketing for many of the tech industry's most innovative and successful companies including Disney, Zynga, Sony, Activision, EA, Hewlett-Packard, IBM, Konami and Sega.
# # #