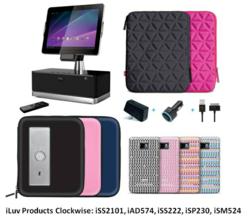 Port Washington, NY (PRWEB) September 28, 2011
iLuv Creative Technology, the premier provider of the most comprehensive line of accessories for the mobile lifestyle, has extended its partnership with Samsung through Samsung's Mobile Application Partner Program (SMAPP) for the second generation of GALAXY products. Through the partnership, iLuv is pleased to introduce a new line of audio accessories, cases, films and power solutions crafted specifically for the Samsung GALAXY Tab 10.1, GALAXY Tab 8.9 and GALAXY-S II Android mobile phone.
GALAXY-S II has rapidly become one of the best-selling smartphones on the market, selling over 10 million units to date, according to an announcement made by Samsung earlier this week. As the GALAXY products continue to gain market share and popularity, there is an increased need for a complete line of accessories to support, complement and enhance these devices for the mobile consumer.
"Through the SMAPP partnership, iLuv designed and delivered the most comprehensive range of innovative, stylish accessories available for Samsung GALAXY mobile products," said Pia Chon, marketing director at iLuv. "As consumer demand for GALAXY devices continues to grow, so will the need for an even broader, more diverse range of premier quality, fashion-forward accessories. iLuv is committed to answering that call, and being the first and only manufacturer to market with complete line of accessories that meets every GALAXY owner's needs."
Bold Audio Accessories
iLuv's line of high-quality audio accessories brings rich and bold sound to Samsung GALAXY devices and allows users to enjoy their favorite music wherever they go.
•iSM524 ArtStation Pro for Samsung GALAXY Tab Series- The iSM524 is the world's first and only audio docking station for Samsung GALAXY Tablets. The ArtStation Pro combines superior sound quality and iconic design to heighten your Samsung GALAXY Tab experience. The articulating arm rotates for portrait or landscape viewing options, and allows tilt adjustment for maximum viewing comfort. Additionally, the convenient remote control lets users skip through audio and video tracks and adjust the volume with ease.
•iSP230 MusicPac Portable Stereo Speaker Case for Samsung GALAXY Tab Series- The iSP230 portable speaker system delivers powerful sound on the go while offering stylish protection for the GALAXY Tab. The tab fits easily inside the zipper-enclosed case, while the external volume and power switches allow users to conveniently control their music.
•iSP110 Stereo Speaker Case for Samsung GALAXY S & S ll- Ideal for the GALAXY S series and other portable multimedia devices, the iSP110's powerful built-in speakers allow you to hear your music with depth and clarity anywhere.
•iEP374 Hands-Free Stereo Earphones for Samsung GALAXY S & Tab- These noise isolating in-ear earphones offer a superior sensitivity mic and convenient call answer/end button for an exceptional hands-free phone experience.
Protective Cases and Films
iLuv's line of cases and films offer consumers stylish protection solutions for their GALAXY products. Cases for the GALAXY Tab 10.1, GALAXY Tab 8.9 and GALAXY-S II are available to fit any lifestyle from the business professional to the fashion-forward trendsetter.
•iSK912/iSK914 The WorkStation™ Portfolio with Detachable Bluetooth® Keyboard for Samsung GALAXY Tab 10.1/8.9- Designed with pride in New York, the Professional WorkStation™ Portfolio transforms your GALAXY Tab into a portable business device. The folio jacket features a detachable Bluetooth® keyboard that seamlessly connects to your GALAXY Tab for exceptional flexibility. The laptop style keys provide an improved typing experience and are designed specifically for important Tab functions. The Professional WorkStation™ Portfolio delivers productivity enhancements that improve your mobile computing experience.
•iSS910/iSS913 Folio Jacket for GALAXY Tab 10.1/8.9- This sleek and professional case features a smooth velveteen interior and Velcro closure to protect the GALAXY Tab. The flexible design allows for multiple viewing angles and is ideal for typing or movie viewing.
•iSS2101/iSS2102 Foam-Padded Neoprene Sleeve for GALAXY Tab 10.1/8.9- Fun and fashionable, the case features Memory Foam for extra protection and a soft, thin plush interior to prevent scratching. The sleeve includes a convenient multi-purpose pocket for storing everything from earphones to cables.
•iSS1312/iSS1314 Glare-Free Screen Protector for GALAXY 10.1/8.9- The anti-glare design allows for easy viewing indoors or out while protecting the Galaxy Tab from scratches.
•iSS222 Hardshell Case with iLuv Patent-Pending Pattern for GALAXY-S II- The colorful and chic iSS222 provides innovative protection from bumps, drops and scratches while allowing users to show off their sense of style. The customized design is super sleek and permits access to all the S II's features.
•iSS225 The Clipper Belt Clip for GALAXY SII- The sturdy belt clip keeps pockets free and provides easy portability, comfort and accessibility, while the flap closure ensures the GALAXY's secure fit.
•iSS223 Sport Armband Pro for GALAXY-S II- The comfortable strap allows consumers to listen to the Galaxy-SII while on the move. The iSS223 holds and protects the SII, earphones, credit cards and more for added convenience.
•iSS1422 Glare-Free Screen Protector for GALAXY-S II- The iSS1422 allows for heightened visibility while protecting the GALAXY-S II screen.
Charge and Sync Solutions
iLuv's line of chargers and adapters provide Samsung GALAXY mobile users with power anywhere to ensure they always stay connected.
•iAD527 USB Power Charger for GALAXY Tab and GALAXY SII- The iAD527 AC charger keeps consumers' GALAXY devices at full power at home and the office.
•iAD572 USB Car Adapter for GALAXY Tab- The iAD572 offers users on the go everything they need to stay connected. The DC adapter with USB port provides power for mobile accessories in any vehicle and the GALAXY tab cables allow for easy charging and syncing from a USB port.
•iAD574 USB Car Adapter and USB AC Adapter for Samsung GALAXY Tab- The iAD574 combines power and portability for a complete solution for GALAXY users. The package includes an AC charger, DC adapter and USB cable.
Pricing and Availability
Prices for iLuv's Samsung audio accessories range from $169.99 for the iSM524 ArtStation Pro to $14.99. Prices for iLuv's Samsung GALAXY Tab and S II cases and films range from $129.99 for the Professional Portfolio to $19.99. Prices for iLuv's Samsung GALAXY power solutions range from $49.99 to $24.99. Products will be available at select iLuv retailers in October.
High-resolution product images available for download at: http://www.randjprfiles.com/iluv_galaxy_products.zip
Follow us on Twitter @iLuv_World, or friend us on Facebook at "iLuv Creative Technology."
About iLuv
iLuv® Creative Technology, the premier provider of the most comprehensive line of accessories for the Apple, Samsung Galaxy and smartphone markets, rapidly delivers products for today's discriminating consumers. Since inception, iLuv has amassed a total of 16 prestigious CES Innovations awards, recognized for design and engineering in the portable, multimedia accessories, headphones and the in-vehicle accessory categories. Headquartered in New York, iLuv is a division of jWIN Electronics Corp., a leading consumer electronics company since 1997. All iLuv products are conceived, designed and developed in New York and continue to lead in quality, value, design and innovation. Learn more about our distinctive range of products and why iLuv means Innovative Lifestyle Unquestionable Value® at http://www.i-Luv.com.
iLuv® and Innovative Lifestyle Unquestionable Value® trademarks are the exclusive properties of jWIN Electronics Corp. and are registered with the U.S. Patent and Trademark Office, and may be registered or pending registration in other countries. All other iLuv® trademarks, service marks, and logos may be registered or pending registration in the U.S. or in other countries. All other trademarks or registered trademarks are the property of their respective owners. © 2011 iLuv Creative Technology.
###