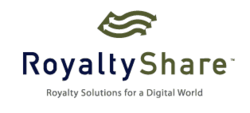 "RoyaltyShare is leveraging its expertise in digital media and royalties management to offer specialized enterprise services and technology solutions that relieve companies of these burdens and allow them to focus on core activities."
- Bob Kohn, CEO
New York, NY (PRWEB) September 28, 2011
RoyaltyShare, Inc., today unveiled a new Enterprise Services division aimed at providing large entertainment and media companies comprehensive services to support their changing business models and increase their profitability. In a related announcement, RoyaltyShare said that Marcus Holloway, a proven leader of high growth business process service organizations, has been appointed President and COO to help lead the expanded operation (see related press release). In addition, RoyaltyShare has received a new round of investment from Trident Capital, Bertelsmann Digital Media Investments, and PlumTree Partners, LLC to support RoyaltyShare's aggressive growth plans.
"The digital revolution in recorded entertainment has dramatically increased the complexity and scalability requirements of operating entertainment and media companies," said Bob Kohn, Chairman and CEO of RoyaltyShare. "The entertainment industry is recognizing that highly specialized, non-core functions, such as royalty processing, can be managed far more efficiently through an industry-wide shared model, rather than internally. RoyaltyShare is leveraging its expertise in digital media and royalties management to offer specialized enterprise services and technology solutions that relieve companies of these burdens and allow them to focus on core activities."
With the launch of the new division, RoyaltyShare is significantly expanding its operations to support the needs of entertainment and media companies worldwide. Similar to long-established shared-service models for common functional tasks—such as human resources (PEOs), payroll accounting, and customer service—RoyaltyShare will offer entertainment companies and other digital media enterprises the ability to leverage the expertise and technology of a company that is 100% focused on the specialized needs, workflow and complexities of the entertainment industry.
The company's Enterprise Service and Technology Solutions offerings include royalty processing, digital transaction management, residuals and profit participation accounting, metadata management, audit response, worldwide revenue clearinghouse functions, and other specialized financial and accounting functions historically performed internally by record companies, music publishers, book publishers, and film & TV studios and producers. RoyaltyShare is already providing Enterprise Services and Technology Solutions to some of the world's largest record labels and book publishers.
The Enterprise Services division will work in concert with RoyaltyShare's Technology Solutions group to re-shape business processes and optimize operations for its customers. In conjunction with this announcement, RoyaltyShare said that Steve Grady has been appointed President of the company's Technology Solutions division.
To support these initiatives, RoyaltyShare has obtained additional investments from its current investors, Trident Capital, LLC and Bertelsmann Digital Media Investments LLC. In addition, PlumTree Partners, LLC, a Dallas-based private investment firm that focuses on growth opportunities and technology-enabled business services, has joined the company's recent financing round with a significant investment. In connection with the investment, Jeff Rich, founder and managing director of PlumTree, has joined the RoyaltyShare Board of Directors. Prior to forming PlumTree, Rich served as Chief Executive Officer of ACS, a Fortune 500 Company and leading provider of business process outsourcing and information technology services, from 1999 to 2005.
About RoyaltyShare
RoyaltyShare, Inc. provides key technology and services to entertainment companies worldwide, helping them deploy state-of-the-art technology and transform key business processes to address the radical shift from physical to digital distribution. Having a management team with over 30 years of experience in technology development and providing specialized services for the entertainment industry, RoyaltyShare works with some of the world's largest entertainment conglomerates.
RoyaltyShare offers a combination of Enterprise Services and Technology Solutions aimed at significantly reducing costs through process improvement, automation, scalability, optimization, and validation, and specializes in providing technology and services to firms in the record industry, book publishing, music publishing, film and television, among other entertainment and media segments. RoyaltyShare is headquartered in San Diego, with operations in New York, New Jersey, Pennsylvania, and London.
More information on the company can be found at http://www.royaltyshare.com.
###