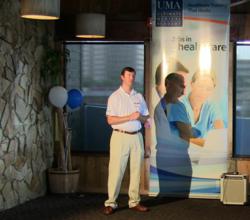 Our online students have regular interaction with their instructors, advisors and classmates by phone and email, but we wanted to give them the opportunity to meet one another in person.
TAMPA, FL (PRWEB) September 28, 2011
Ultimate Medical Academy (UMA) recently hosted a meet and greet for students and graduates of its online healthcare degree programs. The August 13 event was a first for UMA, which offers a variety of healthcare degree and diploma programs through its online campus as well as at its ground-based locations in Tampa and Clearwater, Florida. Attendees were treated to lunch and giveaways at Whiskey Joe's waterfront restaurant in Tampa, where they had the opportunity to meet and mingle with their fellow classmates as well as UMA directors, faculty and staff.
Joe Piechura, Director of Learner Services, kicked off the event with a speech about what it means to be a UMA student. He also explained how the Learner Services team helps online students succeed in their healthcare education. Next, Derek Apanovitch, Senior Vice President and General Manager, Online Programs, shared some inspirational testimonials from UMA graduates who completed their healthcare training, attained industry certification and now enjoy rewarding allied health careers.
A number of instructors and UMA staff members also participated in the event. Aaron Quarterman of Career Services spoke with students about how his team prepares students to find and apply for healthcare jobs in their chosen field. In addition, several Learner Services advisors were on hand to answer questions.
Students at UMA's meet and greet had enthusiastic praise both for the event and their online healthcare education experience. Among the attendees was Patricia Gonzalez, who completed her Medical Billing and Coding diploma on the Tampa campus and is now working toward her UMA online associate degree. "What's so awesome about the teachers and the UMA staff is that they treat you as an individual, not as a number," she said.
Gonzalez, who attended UMA's meet-up with her three children, enjoyed meeting the online staff and her fellow students. She remarked that the meet and greet luncheon served as yet another reminder that "UMA does appreciate you, because what other school do you know that would do this for you?"
Darryl Gary – an Army veteran, retired truck driver and current UMA student – also participated in the event. "Oh, the party was great. Especially the blackened grouper," he said. "I enjoyed meeting the students … it's always good to meet someone face-to-face."
Gary also praised his UMA training, describing his online healthcare education as a life-changing experience. "I love all the help UMA offers, especially my advisor. I'm able to call her, and she calls to find out how I'm doing. It makes you feel you're not alone, even though you're home on your computer," he noted. With graduation on the horizon, Gary looks forward to embarking on a healthcare career. "I'm excited about the fact that I'm entering a profession I enjoy, and that I can help other people and feel proud about myself. I feel confident that I will succeed."
UMA directors were pleased with the positive response to their first meet and greet. "Our online students have regular interaction with their instructors, advisors and classmates by phone and email, but we wanted to give them the opportunity to meet one another in person. We also wanted to familiarize students with our Learner Services and Career Services departments, and make sure they're taking full advantage of the resources available to them," said Piechura. "Based on the feedback we received from attendees, the meet and greet was a great success. We look forward to hosting more of these events in the future."
To learn more about UMA's online healthcare training programs and student services, visit http://www.ultimatemedical.edu/education.
About Ultimate Medical Academy
Founded in 1994 and located in Florida, Ultimate Medical Academy (UMA) offers dynamic healthcare training and degree programs that empower students to enter and advance within the growing allied health field. UMA is accredited by the Accrediting Bureau of Health Education Schools (ABHES) and dedicated to providing a superior education in a supportive, professional and ethical environment. With locations in Tampa and Clearwater as well as online healthcare programs, UMA has helped thousands of students launch healthcare careers in Florida and beyond.
For information on student graduation rates, retention and placement rates, and student financial obligations, visit http://www.ultimatemedical.edu/consumerinfo.
Media Inquires:
Tricia Wong
Director of Marketing
Ultimate Medical Academy
Phone: 813-676-1646
# # #