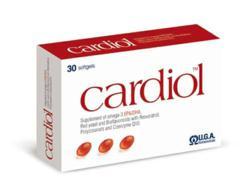 Red Yeast Rice and therapeutic lifestyle change decrease LDL cholesterol levels without side effects like muscle pain and may be a treatment option for patients who cannot tolerate statin therapy
Solana Beach, CA (PRWEB) September 29, 2011
According to Solana Health more than 30 million Americans are prescribed statin drugs and many of them are asking how to lower cholesterol naturally. This is because a lot of these patients cope with statins side effects every day. These side effects range from mild to severe muscle pain but can also include elevated liver enzymes and even rhabdomyolysis, which is the breakdown of muscle tissue. As a result, more than half of those who are prescribed statins give them up within a year. (1)
A recent trial undertaken in 2010 at the University of Pennsylvania School of Medicine focused on patients who had previously suffered side effects from statin drugs and was designed to evaluate whether Red Yeast Rice would be tolerated and become one of the successful ways to lower cholesterol. The patients taking Red Yeast Rice extract showed a 30% reduction in cholesterol in 12 weeks with no side effects. This is very good news for people who want to know how to lower cholesterol.
According to the researchers, "Red Yeast Rice and therapeutic lifestyle change decrease LDL cholesterol levels without side effects like muscle pain and may be a treatment option for patients who cannot tolerate statin therapy". (2)
Other scientific studies indicate that Red Yeast Rice may not only help people who need ideas to minimize cholesterol but may also help people who suffer from diabetes as well. According to an article by Dallas Clouatre PhD., patients taking high and or long term doses of statin medication also have a high rate of diabetes.(3) However consumption of Red Yeast Rice seems to have an opposite effect on the patients. A recent Chinese study shows Red Yeast Rice extract decreased insulin and blood glucose levels in a group of type II diabetics, meaning there was better blood sugar regulation. (3)
For those who want to know how to lower cholesterol there is ever growing evidence that the benefits of Red Yeast Rice as an alternative to statin therapy goes beyond effectively lowering cholesterol. It is an effective, convenient and affordable alternative to statins.
Solana Health in Solana Beach California offers an all-natural alternative to statin drugs called Cardiol. Cardiol utilizes nine proven cholesterol lowering substances including Omega-3 and Red Yeast Rice. President and Founder David McMahon became the first case test case for Cardiol in the US. "Taking just one Cardiol capsule a day lowered my LDL (bad) cholesterol 20% in one month, while my HDL (good) cholesterol increased over 15%." McMahon added, "We are so confident in Cardiol's ability to manage cholesterol that we offer a risk-free 30 day trial with a money back guarantee."
For those interested in how to lower cholesterol, Cardiol is manufactured in Italy under the strictest supplement laws in the world including, third party testing, date stamping and lot traceability of every batch.
Solana Health is dedicated to helping people educate themselves on lowering their cholesterol levels naturally and offers a free e-book to help people all over the world to decrease their cholesterol levels naturally and safely.
About Solana Health:
Solana Health is a California-based wellness company committed to providing the highest quality nutritional supplements at the best possible prices. Solana Health supplements are registered with the FDA and manufactured under Good Manufacturing Processes. Their products are considered pharmaceutical-grade and every batch of ingredients is third party tested to guarantee purity and potency. Cardiol is a one-capsule-per-day supplement that combines nine potent natural ingredients that are proven to help lower LDL and raise HDL cholesterol levels. For more information, or to request Solana Health's free e-book "How to Lower Cholesterol Naturally So You Can Live the Long, Happy Life You Deserve", please visit http://www.howtolowercholesterollevels.net.
Sources:
1. Avorn J, Monette J, Lacour A, et al. Persistence of use of lipid-lowering medications. A cross-sectional study. JAMA. 1998;279:1458-1462,
2. Halbert, French, Gordon, Farrar, Schmitz, Patti, Morris, Thompson, Rader, Becker; Tolerability of Red Yeast Rice (2,400 mg Twice Daily) Versus Pravastatin (20 mg Twice Daily) in Patients With Previous Statin Intolerance; American Journal of Cardiology, Volume 105, Issue 2, P. 198-204, 15 January 2010.
3. Red Yeast Rice, Cholesterol and beyond, Dallas Clouatre, PHD, Total Health Magazine Online
4.Mayo Clin Proc. 2008;83(7):758-764
###