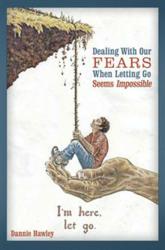 Spokane Valley, WA (PRWEB) September 29, 2011
According to United Nations Development Programme, the average life expectancy in Africa is a mere 52 years, mostly due to poor living conditions. These are staggering statistics. In the new book by author, nurse and missionary Dannie Hawley, Dealing with Our Fears when Letting Go Seems Impossible (published by WestBow Press), two missionary nurses encountered the truth of God's life-sustaining principles while serving in Africa.
Dealing with Our Fears when Letting Go Seems Impossible is a story of faith-building trials and God-orchestrated triumphs. It chronicles the missionary adventures of Hawley and her colleague Anne-Lise in a medical post in the remote African jungle village of Kalexe. This is a volume of the lessons the Lord graciously taught them in "how to let go," liberally sprinkled with true stories to illustrate these lessons as they worked through them.
"All of us struggle with challenges which so often seem way beyond our ability!" says Hawley. "Are you aware that while it is true that God will let us be tested, God wants us to succeed? Trials are put before us to build our faith and God will take us by the hand and guide us through to victory… if we are not so put off by the trial that we wrestle our little hand out of His!"
Three and a half years into their service, Hawley became totally blind. Dealing with Our Fears when Letting Go Seems Impossible tells of the period following her blindness as they continued to live and serve in the village. By the second year of trying to live in such a rugged environment as a blind person, she became very discouraged. After sharing her discouragement with the Lord, He began giving the two nurses lessons on how to let go of their fears. This book details these lessons, illustrated by the adventures they lived as they learned.
Dealing with Our Fears when Letting Go Seems Impossible is an exciting narrative of tears and cheers, comedy and drama that unfolds as a captivating http://web.worldbank.org/WBSITE/EXTERNAL/COUNTRIES/AFRICAEXT/0,,menuPK:258649~pagePK:158889~piPK:146815~theSitePK:258644,00.html [African] adventure lays out God's plan for all feeling stressed!
About the Author
Dannie Hawley, a pediatric nurse practitioner, has served full time in the African mission field for more than 26 years. Since 2007, her work has included overall basic care of five dozen children as Project Director of the Samaritan House Children's Center. Dannie lives in West Africa.
WestBow Press is a strategic self-publishing alliance of Thomas Nelson, the world's premier Christian publisher, and Author Solutions, Inc. (ASI)—the world leader in the fastest-growing segment of publishing. Through this partnership, authors benefit from the rich publishing heritage of Thomas Nelson and the speed-to-market advantages of the ASI self-publishing model. Titles published through WestBow Press will be evaluated for sales potential and considered for publication under the Thomas Nelson imprint. For more information, or to start publishing today, visit westbowpress.com or call 866-928-1240.
###