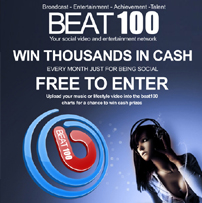 "Beat100's aim is not for users to simply upload a video and forget all about it. We are aiming to create a community that encourages talent within societies that too often goes unnoticed"
New York, NY (PRWEB) September 28, 2011
Beat100 is the place to be for social networking, users can stay connected with friends but also watch and upload videos featuring anything from unsigned bands, musician, singer, dancer, comedian, magician, freestyler, bmx rider to ballet.
Beat100 users have the opportunity to enter a monthly music and lifestyle video chart, which will give users the chance to vote on their favorite video which has been uploaded by other members, or even enter a video and take advantage of the monthly prize pool of $2,000 which is on offer. This completely free and unique idea that rewards users and help unsigned talented people gain exposure is all part of Beat100's dedication to a Monthly Music Video and Lifestyle chart, which could earn users cash prizes.
"Beat100 aim is not for users to simply upload a video and forget all about it. Beat100 are aiming to create a community that encourages talent within societies that too often goes unnoticed."
Beat100 is free to enter and open to all. See Beat100.com for more information.
###