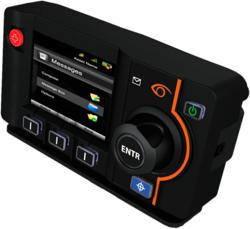 With the G5, the flight crew can be connected to the ground crew without any limitations.
Helitech, Duxford, Cambridgeshire, UK (PRWEB) September 29, 2011
Guardian Mobility today announced the release of its newest product, the Guardian 5. The Guardian 5, part of a full line of satellite-based aircraft communications and data solutions, brings new functionality to the arena of portable satellite Automated Flight Following (AFF) systems by allowing real-time two-way text messaging. Authorized ground personnel can send messages to and receive messages from the crew, anywhere in the world, from any internet-connected computer or smart phone using the Iridium satellite network.
The crew can select any one of dozens of user-defined, canned messages or, using the unique scroll-wheel/cursor control, enter free-form messages. All messages are sent instantaneously using a reliable satellite network with global coverage to ensure efficient communications. In addition to its low weight (350 grams, or about 12 ounces), the G5 can be mounted in the cockpit in a Dzus-rail rack or in a portable cradle that allows it to be removed from the aircraft for true battery-powered, portable operation not requiring an STC.
Howard Pearl, Guardian's President and CEO, said, "We are excited to expand our family of products to provide increased functionality to our customers. With the G5, the flight crew can be connected to the ground crew without any limitations." He added that, "This demonstrates the adaptability of our network infrastructure to enable cutting-edge features as technology evolves."
About Guardian Mobility
Guardian Mobility is the provider of global tracking, voice and data communications and data management solutions to the aviation marketplace. Guardian has developed a full range of products and services targeted at assisting aircraft operators increase safety and efficiency, reduce costs and improve reporting. Guardian introduced the first portable GPS tracking device in 2002, delivering location and status information, and has since developed solutions to facilitate 2-way text messaging and automatic data communications between the aircraft and the ground. Guardian's products are approved for government-mandated Automatic Flight Following (AFF) and are used by fleet operators worldwide for Flight Data Monitoring (FDM) and Engine Trend Monitoring (ETM) to support Flight Operations Quality Assurance (FOQA) and Maintenance Operations Quality Assurance (MOQA) as part of a Safety Management System (SMS).
###