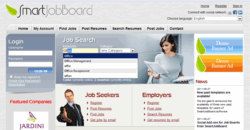 (PRWEB) September 30, 2011
SmartJobBoard is a top software development company employing its vast potential, creative approach and strong resources in provision of up to date software for job boards. The team of its IT professionals has developed and issued the next 3.4 software version today.
"The SmartJobBoard developers have paid most of their attention to make the 3.4 version more user-friendly and tailor it to the specific needs of modern Job Board owners. The newest version contains a number of useful plugins, enhanced features and vital improvements" says Rodion Telpizov SmartJobBoard CEO.
To save time and be connected with leading social networks users now can register and sign in to a job board using their Google accounts. Other convenient added feature is 'Autocomplete' which automatically proposes to users possible keywords and phrases to enter during the completion of forms. Among the other enhancements users will get an opportunity to receive more additional system notifications and participate in various polls.
To make a website Administrator's life easier a 'Form Builder' feature was developed. It allows editing Job and Resume Search forms using visual editor easily. The improvements were also made in mass mailing functionality and in SEO optimization tool. Other sections of admin panel were also improved substantially.
"One of the most important enhancements of 3.4 version is optimization of the system core for compatibility with different types of servers. Now our customers can install and run the software on such types of servers as: IIS, Lighttpd, Zeus, LiteSpeed as well as Apache" mentioned Rodion Telpizov SmartJobBoard CEO.
This new release vividly displays that SmartJobBoard job board software is marching in step with progress and cares about the needs of users and job board owners. You can get more information and play with the software on practice from the company's official website: http://www.smartjobboard.com
###