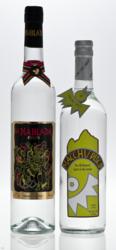 New York, NY (PRWEB) September 28, 2011
On October 1, 2011, Zengo restaurants across the US will debut Chef Richard Sandoval's artful blend of Peruvian and Japanese flavors in his tasting menu a "Taste of Lima-Tokyo." These menu offerings will feature new interpretations of traditional Peruvian and Japanese recipes along side new cocktail creations of the single-grape quebranta, Macchu Pisco.
Melanie da Trindade-Asher, the founder & master distiller of Macchu Pisco, expressed her excitement over this partnership: "We are delighted that Chef Sandoval has selected Macchu Pisco for his Lima-Tokyo tasting and for us to partner with a Chef who has championed Latin cuisine." She added, "Peruvian gastronomy is just being discovered, and we hope that the public will learn that as intrinsic as sake is to the Japanese dining experience so is Pisco to Peruvian food."
A "Taste of Lima-Tokyo" will offer eight specialty small plates highlighting affinities between Peruvian and Japanese ingredients. An abundance of seafood is common to both cultures so the playfulness of the mixture of ingredients will come alive in dishes like the Hamachi Causa, layers of potato and fish seasoned with Peruvian Aji and spicy Togarashi, and the Chupe de Mariscos, a seafood stew made with Japanese dashi-milk broth.
These dishes will be enjoyed with handcrafted Macchu Pisco cocktails that continue the exploration of the tastes of Lima-Tokyo. Drinks will include a fusion of the two countries' national spirits in a concoction called "Muddled Grape" which combines Macchu Pisco and sparkling sake garnished with a frozen red grape. Peru's iconic national cocktail, the Pisco Sour, will also be receiving a makeover with the unexpected "Maracuya-Aji Amarillo Pisco Sour."
Lizzie da Trindade-Asher, President of Macchu Pisco LLC, noted "The fact that we can support Zengo's Lima-Tokyo initiative is a testament to the growth of the Pisco category in the US and of our award-winning Macchu Pisco. We think that this growth can be continued only with the appreciation that Chef Sandoval has...Pisco is a versatile white spirit and to begin dinner with the "Muddled Grape" instead of the usual glass of champagne is exactly how we would like to see this category evolve."
###