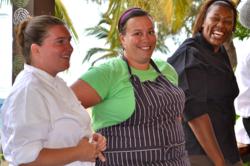 From the official cookbook to tickets to the 2012 St. Croix Food & Wine Experience, these gifts are ones that raise funds for good causes.
(PRWEB) September 30, 2011
With gift-giving season quickly approaching, here are fresh ideas from the clients of Watkins PR that make gift giving more about the meaning. From saving chimpanzees to a vacation that is more about the donations, gifting this holiday season just got more meaningful and fun.
For the Chef
$20
Amazon.com
If you can't afford an island vacation, but still want to escape, prepare a cocktail and meal from the new cookbook for the St. Croix Food & Wine Experience. From tropical dishes to recipes from celebrity chefs including Anita Lo, Liza Shaw and Tim Love, the cookbook offers more than 100 recipes from easy to challenging. Available on Amazon.
Jewelry from Up & Coming Designer
$90
JoannaNealey.com
"Cell Necklace in Robin's Egg Blue" is a stunning necklace by jewelry designer and metalsmith Joanna Nealey. The necklace elegantly blends copper, enamel, oxidized sterling silver. The copper is hand pierced and enameled in robin's egg blue enamel. The oxidized silver chain features a handmade toggle clasp.
Art Ideal for a Cubicle
Starting at $125
HotMetalMama.com
If your want to give a gift with impact to someone who is lacking space, try a piece from Hot Metal Mama's Boutique Box collection. These brilliant designs make a big statement at an affordable price. Starting at $125, 6"x6"x3" sculptures are made from multiple medias including metal, acrylic and paper. The "Freedom" box in the photo was inspired by Maya Angelou's "I know why the caged bird sings" poem. Notice the music paper lining the bird cage and below that notice that words to Maya Angelou's famous poem surround the interior of the box.
Go Bananas: Give to the Great Apes
$150
CenterforGreatApes.org
What happens after chimpanzees and orangutans are rescued from labs, roadside zoos and abusive, unhealthy or poor living situations? If they are lucky, they get to go to the Center for Great Apes, a private, non-profit sanctuary that provides lifetime care for great apes. Several of the apes never touched grass, felt rain or interacted with their own kind before coming to the Center for Great Apes. The facility is not open to the public and only members have access on select days of the year. To be come a family member is just $150 which is cheaper than a membership to the country club, and a whole lot more meaningful. Join at CenterforGreatApes.org.
Gator Getaway Package
$396
LemonTreeInn.com
Lemon Tree Inn of Naples, Florida has teamed with Everglades Area Tours to offer guests a wild time with the Gator Getaway Package. The two-night package includes accommodations and a choice of kayaking or biking through the Everglades. The Gator Getaway Package is $396 December 15 through April 14, 2012. Gratuities, transfers and taxes not included.
Tropical Safari
$517
HotelCaravelle.com
Want to do something different for the holidays? Join a team of scuba divers striving to eradicate the invasive and destructive lionfish population in the waters off St. Croix. The Caribbean Lionfish Safari package, offered by Hotel Caravelle, is a four-day, three-night package, which includes four dives to search for lionfish. Rates, starting at $517 per person, based on double occupancy, include all taxes, service charge and a daily American breakfast at Hotel Caravelle.
Take a Donation Vacation
$2500 and up
stcroixfoodandwine.com
Thought tickets to the St. Croix Food & Wine Experience don't go on sale until a month before the event, which will be held April 17-22, 2012, patron packages are available now for pre-sale. For $2500 patrons get two tickets to multiple events with celebrity chefs including Graham Elliott, Govind Armstrong, Howie Klienberg, Eric Greenspan, Ana Sortun and more. All you need to do after becoming a patron is to book your airfare and hotel. To become a patron or learn about sponsorship opportunities, contact the St. Croix Food & Wine Experience, visit http://www.stcroixfoodandwine.com.
About Watkins PR
Watk!ns PR is a marketing communications firm focused on public relations, promotions and strategic partnerships. We have achieved revenue-generating results for corporations, artists, resorts, and destinations. No matter the industry, every client we work with has one thing in common: they are passionate about what they do. At Watkins PR, we share that passion and work together to achieve success. For more information visit WatkinsPR.com.
# # #