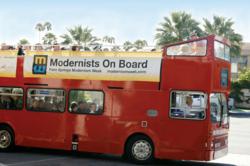 Pslm Springs, CA (PRWEB) September 28, 2011
Modernism aficionados, style mavens, and inquiring minds will not have to wait until February to experience a bit of Palm Springs Modernism Week.
To celebrate DOCOMOMO National Tour Day, Palm Springs Modernism Week will offer its most popular event, the Modernism Week Double Decker Architecture Bus Tour during the Columbus Day holiday October 8, 9 and 10, 2011. This 5th Annual DOCOMOMO features a variety of tours throughout the country; for a full listing of national tours, visit http://www.docomomo-us.org/tour_day_2011.
DOCOMOMO is an acronym for the DOcumentation and COnservation of buildings, sites and neighborhoods of the MOdern MOvement. DOCOMOMO promotes the study, interpretation and protection of the architecture, landscape and urban design of the Modern Movement.
"Modernism Week is excited to participate in DOCOMOMO's National Tour Day and offer Valley residents and visitors the opportunity to experience what have become the world-famous Modernism Week Double Decker Architecture Bus Tours," said chairman Jacques Caussin. "The double decker architecture bus tours are so popular during Modernism Week and are often sold out, despite having two tours offered each day throughout the 11-day festival. Now Modernism Week fans and midcentury modern architecture buffs can enjoy this fun 3-hour open-air, double decker bus tour of Palm Springs' notable midcentury modern architecture before the crush of Modernism Week activities in February," Caussin added.
NATIONAL TOUR DAY
Saturday October 8: 9 a.m. tour
Sunday, October 9: 9 a.m. and 1 p.m. tours
Monday, October 10: 9 a.m. tour
Tour fee: $75.00; tickets may be purchased at http://www.modernismweek.com
The tour is conducted by a guide who is knowledgeable about the local renowned modernist architects and their striking architecture, as well as Palm Springs' fascinating 90-year history as a glamorous destination and celebrity outpost. The 3-hour bus tour focuses on the exteriors of dozens of residential homes and commercial midcentury modern buildings throughout Palm Springs.
Participants will learn the history of Palm Springs' architecture and the celebrated architects that put modernism on the map. As ground zero for midcentury modern architecture, and with the world's largest concentration of midcentury modern architecture, participants will see why Palm Springs draws modernism aficionados from around the world.
As another special value-added component to the Modernism Week Double Decker Architecture Bus Tour, participants will be able to enhance their Palm Springs experience with a free visit to the architecturally-significant Palm Springs Art Museum, designed by the late modernist architect E. Stewart Williams and receive a 10% discount from its Museum Store. They will also receive a complimentary booklet on Class 1 Historic Sites of Palm Springs produced by the Palm Springs Preservation Foundation and a Modern Map of Palm Springs produced by the Palm Springs Modern Committee.
About Palm Springs Modernism Week:
Palm Springs Modernism Week, a non-profit organization that produces the annual 10-day festival, is a celebration of mid-century modern design, architecture and culture, and features over 75 events including home tours, film, lectures, fashion, and swank receptions at locations rarely-seen by the public.
As the only such event in the country when it was launched in 2006, Palm Springs Modernism Week has helped fuel a robust national interest in the preservation and appreciation of modernism. Modernism was a popular design aesthetic, originated in the 1950s and 60s, which was typified by clean, simple lines and celebrated elegant informality which came to define desert modernism as a sought-after architectural genre.
The 7th Annual 2012 Palm Springs Modernism Week will take place February 16 – 26, 2012. For more information, visit: http://www.modernismweek.com
# # #