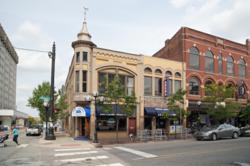 For buyers seeking a downtown Ann Arbor condominium or loft, this is a rare chance to purchase a large, historic space in the heart of the action.
Ann Arbor, MI (PRWEB) September 30, 2011
Ann Arbor real estate firm Piperpartners.com announced today a unique opportunity to own a 2,100-sqaure-foot downtown Ann Arbor loft condominium in the historic Metzger Building. Andy Piper at Piperpartners.com at Keller Williams Realty in Ann Arbor said that. "For buyers seeking a downtown Ann Arbor condominium or loft, this is a rare chance to purchase a large, historic space in the heart of the downtown action. " He added "We rarely see opportunities like this in a very tight downtown residential market."
The former office space, 203 Washington, #2, could be converted into a large loft and is above The Arena Restaurant Sports Bar and Grill, offering socializing and happy-hour deals. Other nearby restaurants include The Grizzly Peak Brewing Company, Café Zola and The Earle Restaurant. The loft is also near the University of Michigan, U of M Health Systems, Kerrytown Market & Shops and City Hall.
The Metzger Building was originally Hoelzle's Butcher Shop, built in 1883, according to the Ann Arbor District Library. The building was sold in the 1920s and remained a meat market under other owners. It then served as the home of several different businesses including a gem and mineral store and an army surplus store. Metzger's Restaurant, a popular German eatery, expanded into the building in the early 1990s, thus giving the building its name even though the restaurant has since relocated.
The loft-conversion space offers special downtown Ann Arbor features like urban views, a turret, brick walls and plenty of light with large, arched windows with both south and west exposure. The amount of space for a downtown Ann Arbor loft is also exceptional. "At 2,100 square feet and with two separate entrances along with full south and west exposures, there is plenty of room to live, work and play." Piper emphasized.
Other downtown Ann Arbor properties Piper specializes in include:
Liberty Lofts, located on the near west side of Ann Arbor, Liberty lofts is a true factory conversion.
Loft 322, small new construction loft condominium building near the University of Michigan campus.
Ashley Terrace, luxury high rise condominiums.
River House condominiums, affordable condominiums near the University of Michigan medical campus and popular with resident doctors and medical students.
Ashley Mews, large downtown Ann Arbor townhouse condominiums.
For a full list of all An Arbor condominium developments visit the Piperpartners.com Ann Arbor condominium map page
To view the property 203 E Washington #203 Ann Arbor MI, contact Piperpartners.com at 734-604-8242.
Piperpartners.com at Keller Williams Realty is located at 2144 South State Street, Ann Arbor, Michigan 48104. It serves home buyers and sellers in Ann Arbor, Saline, Dexter, Ypsilanti, Canton, Plymouth, Livonia, Northville, Novi, Westland and nearby communities. For more information contact Andy Piper at 734-604-8242
# # #