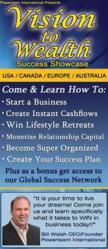 "If you really want to be an entrepreneur, you have to have a great inspiring
teacher and that's what Bill and Powerteam can do for you"

Mark Victor Hansen Co-Author of Chicken Soup of the Soul and OneMinute Millionaire Series
Brisbane, Queensland (PRWEB) September 28, 2011
Bill Walsh is a leading International Business Coach and Venture Capitalist who is currently touring Australia with his worldwide Vision to wealth event connecting and sharing success secrets of leading companies of how to win big in today's economy! Here are 7 simple tips he has for entrepreneurs;
1. Build active community around what it is you do and deliver using the latest media like facebook, twitter and youtube that will share you message far and wide saving you Time and Money.
2. Develop strong and successful relationships – it doesn't matter what Industry, Business your in or job you hold. Learn how to build strong and long lasting successful relationships with clients, customers, fans and suppliers and you will be successful.
3. Motivation doesn't work! So instead get Inspired – Get educated, Inspired and build a vision that is so strong, exciting and that pulls you, your business and others around you to where you want to get to. This also makes it become a lot more fun for all involved!
4. Social media is a must and integral part of business today – It gives you and the market instant access to competition, social proof, reviews and real honest feedback. The way you manage, monitor and share your message will make or break your business. Because it is instant and it allows small businesses to reach far more customers globally at no upfront cost.
5. Overnight Success is a lot easier today – If you can create a viral movement though social media using facebook, Twitter and Youtube and combine it with your killer Product or Service it will become unstoppable. A great example was the creation of Susan Boyle and her singing career from some of the first Youtube videos one current clip has over 75 million views!
6. What is your competitive advantage? What makes you unique and standout in your industry, sector, niche and space? A common theme of most business owners is that they don't know or couldn't tell you. Find it and tell the staff, clients and customers and everyone you can to create the awareness. An example that a lot of people know about is rise of dominoes from using the competitive advantage of delivering pizzas in under 30mins or they were free.
7. The most over looked business tip is – What is your end goal? Related back to your plan most people go into business with a grand view of making it successful and becoming wealthy however many business owners do not have a end goal in mind of when and how they will get out of a business. It's like property the biggest pay cheque and profit comes when you sell.
These 7 simple yet effective business tips come complimentary of Bill Walsh a leading Venture capitalist and Business Coach to many International Companies. This not even scraping the surface of What Bill Walsh has to offer!
"If you really want to be an entrepreneur, you have to have a great inspiring
teacher and that's what Bill and Powerteam can do for you"
Mark Victor Hansen Co-Author of Chicken Soup of the Soul and OneMinute Millionaire Series
"Thank you again Bill for all your advice and guidance. I'm using your
direction to change my direction."
Brian Tracy Author of Million Dollar Habits, and The Traits of Champions
Series
Bill Walsh will be presenting vision to wealth for the first time in Brisbane on Wednesday the 5th of October at 6pm for a FREE ticket to the event in Brisbane go to the link below. Strictly limited to 100 people. He will also be in Melbourne on the 4th of October and in Sydney on the 6th of October.
You can register for free to attend Bill's Event at http://bit.ly/visioneventsaustralia
For further information on Bill Walsh please contact -Preetesh Morar 0414596709
###