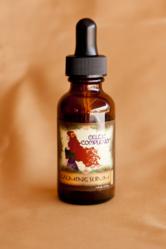 Receive a free rosacea awareness kit which includes all my best tips for treating rosacea naturally, a sample of Calming Serum and a $10 off coupon towards your first purchase.
St. Petersburg, FL (PRWEB) September 29, 2011
Celtic Complexion Organic Skin Care for Rosacea which made it's debut earlier this year, has just launched a new serum which was designed for even the most fragile and delicate skin. All skin types, including oily or dry can use the serum which will significantly reduce redness when used as directed.
Made with the healing properties of coconut oil, essential fatty acids and therapeutic essential oils, this serum soothes, nourishes, calms and hydrates sensitive skin.
Celtic Complexion founder and Master Esthetician Jennifer Devlin explains, "People with extremely sensitive skin aren't aware how the daily application of toxic chemical ingredients found in most commercial skin care products are affecting their skin. The chemicals, dyes and fragrances are not only exacerbating skin sensitivity, but they are accelerating the aging process as well".
Devlin, who was able to control her own rosacea with her hand-blended skin care recipes, has dedicated her career to helping others with the same skin condition. She has written an e-book entitled "Holistic Solutions for Rosacea" and offers it free in her rosacea awareness kit. The kit also includes a generous sample of the Calming Serum and a $10 off coupon towards a future purchase.
Devlin has acquired quite a following of (happy) rosacea suffers and she personally guarantees each purchase from her site with a 100% money back guarantee if the products don't live up to their promise.
###