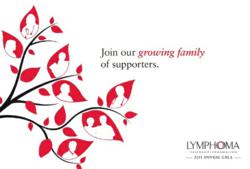 New York, NY (PRWEB) September 28, 2011
The Lymphoma Research Foundation (LRF) – the nation's largest non-profit organization devoted exclusively to funding lymphoma research and to serving those touched by the disease – will honor its growing family of supporters at its annual gala on October 5, 2011. Hundreds of friends of the Foundation will travel to New York City's Chelsea Piers to celebrate the unique and important contributions of the evening's honorees.
Emmy-award winning broadcast journalist Harry Smith will preside over the evening's program, which will commence with a cocktail hour and exciting silent auction. Sotheby's C. Hugh Hildesley will serve as the gala's auctioneer for both the live auction, as well as for the Foundation's Raise it for Research. Raise it for Research is an exciting and unique auction where guests pledge their support for lymphoma research. Funds raised at the gala support LRF's mission and programs.
"The Lymphoma Research Foundation is committed to eradicating lymphoma and serving those touched by this disease," said Diane Blum, LRF's Chief Executive Officer. "The dedication of the Foundation's supporters, especially of those whom we are honoring at this year's gala, is instrumental to LRF's progress. LRF extends our sincerest gratitude to all of our supporters for their ongoing support of our vital mission."
Philanthropic and corporate leadership awards will be presented to selected individuals and companies that have had a meaningful impact on helping the Foundation advance its mission. The Freundlich Award, named for Barbara and Jerry Freundlich who founded the Cure for Lymphoma Foundation (one of LRF's predecessors), honors an outstanding leader in the community who has supported the mission of the Lymphoma Research Foundation. This year the Freundlich Award will be presented to the Werner Family, while Corporate Leadership Awards will be given to the Celgene Corporation and Genentech BioOncology.
"As a lymphoma survivor, the work the Foundation does on behalf of those touched by this type of blood cancer is especially meaningful and important; we are honored to have our family receive the prestigious Freundlich Award at this year's gala," said Michael Werner. "Over the years, I have seen first-hand the improvements to therapies and treatment options for lymphoma and I know that the Foundation has been instrumental in these advances; I look forward to our continued commitment to investing in research so that we can ultimately find a cure for this disease."
The 2011 gala is co-chaired by Miriam & David Phalen and Sheri & Jimmy Rosenfeld. For more information about the Lymphoma Research Foundation's annual gala or to purchase tickets to the event, please contact Taylor Zitay at (646) 465-9103. For more information about lymphoma, please visit the LRF website: http://www.lymphoma.org.
About the Lymphoma Research Foundation
The Lymphoma Research Foundation (LRF) is the nation's largest non-profit lymphoma organization devoted to funding innovative research and providing people with lymphoma and healthcare professionals with critical information on the disease. To date, LRF has awarded more than $47 million in lymphoma-specific research.
For additional information on LRF's programs and services, visit http://www.lymphoma.org.
###