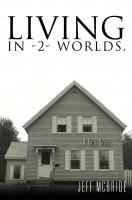 Longwood, FL (PRWEB) September 30, 2011
Are you a psychic or spiritual guide is one of many questions Jeff McBride is asked on a regular bases. McBride is a Gifted Clairvoyant and successful entrepreneur. Living in Two Worlds ($11.99 paperback, ISBN 9781613796283) gives an account of Jeff's abilities to predict the future and communicate with the spirit realm over the last forty years. The former police officer provides insight of his abilities to locate missing persons and communicate with the deceased.
Many of the choices McBride made as a child were based on the guidance he received from his spiritual guides. McBride describes the guides as voices and spirits that inform him whether or not he is making the right decisions in life. This is an ability that McBride shares with others by providing spiritual readings. McBride believes we all have an inner voices providing spiritual guidance. He states that in order to connect with the spirit realm we must meditate, pray and exercise. He adapted this mantra from Albert Einstein, who believed humans need to speed up their mental energy to connect to spirit world. McBride also believes that having a healthy body and mind are crucial factors when attempting to connect with the spirit realm.
Jeff McBride is a father, record setting bodybuilder, former police officer of 10 years, actor, member of the Screen Actors Guild and AFTRA. For more information about Jeff McBride, please visit http://www.Jeffreyjohn26.com
# # #