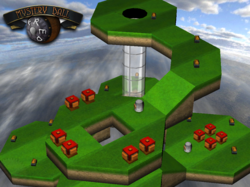 The game is really easy to pick up and there's a lot of depth to it. So it's one of those rare, nice games that you can pick up instantly and goof around with, and say, 'I get it. I know what it's about.' -David Howe
Westwood, KS (PRWEB) September 28, 2011
Red Nova Labs has released a beta testing version of Mystery Ball, a new iOS game that is slated for a fall release. Mystery Ball is an action/adventure puzzle strategy game starring FRED, a neurotic ball with amnesia and a handful of phobias. FRED is the test subject of an enigmatic Professor, who has recruited the player to manipulate FRED in his experiment. FRED must find his way through a world that is suspended in air and conquer his fears in the process.
Mystery Ball relies heavily on the player's strategic ability. Players set up their environment with doodads – tools that help FRED jump, capture enemies, and manipulate the world – before starting each level. FRED must also deal with frenemies – creatures who are out to get him, or perhaps just give him a hug – FRED isn't quite sure! As the game progresses, FRED collects bravery badges to overcome his fears, like aphephobia, the fear of being touched, and gains more abilities. All of these elements converge in an environment where FRED can drop off the edge into an abyss at any moment.
Mystery Ball is the work of one developer, David Howe, who designed and programmed the game and created all the art. Howe designed Mystery Ball for intuitive play.
"The game is really easy to pick up and there's a lot of depth to it. So it's one of those rare, nice games that you can pick up instantly and goof around with, and say, 'I get it. I know what it's about,'" Howe said. "The gameplay came first. It always happens that way. You have to have the gameplay first. What's the game going to be like, if you strip out all the cutesiness, all the characters, the story, everything, what is it?"
Mystery Ball's simple gameplay, engaging design and emphasis on strategy drew in about 40 beta testers.
"It's a strong mix: we have some kids that range from age 3-15, some young to mid-adults, some moms and dads, and even a couple grandparents," Howe said. "I thought it was really important to have a diverse testing group. I have no doubt that many testers will find some really unique, fun-to-fix bugs, but the goal is primarily to hone the gameplay elements that are the most fun."
Howe's art creates a rich, engaging play environment. The green plains, windy deserts and rusty labs are packaged in a set of the Professor's captivating steampunk controls, built to manipulate FRED and the space.
"I will not be sending out the game's ending to the testing team. In fact, no one will know how the game ends until the game officially ships," Howe said. "That's the Mystery, after all … who is FRED, what happened to him, and what's this Grand Experiment all about?"
About David Howe
Howe grew up playing games and has been making them since the age of 10. He attended DigiPen and worked at Handheld Games as a game programmer and designer. Howe is the creator of Curator Defense and Mystery Ball, which he programmed, designed and art-directed. It is the first game from Red Nova Labs' Games Division. Red Nova Labs is a web technology and marketing think-tank located in Westwood, Kan. Mystery Ball will be available for iPhone, iPod Touch and the iPad this fall. Find out more at Mystery Ball.
About Red Nova Labs
Red Nova Labs was founded and self-funded in 2009 as a web development and marketing agency as well as a technology think-tank, creating original, cutting-edge systems for web and mobile. On the service side, the company supports interface design, backend programming and online marketing. On the product side Red Nova Labs invents, builds and launches its own web-based platforms for various applications and vertical markets. To support both business models, its growing team of development engineers conceives resourceful code generators which add practical ease to complex programming—enabling unprecedented speed in creating vibrant, multidimensional environments and utilities. Once a product is launched, each business operates autonomously as an independent unit, with full engineering and marketing support from Red Nova Labs on the back end. The company is open to collaborative opportunities.
###