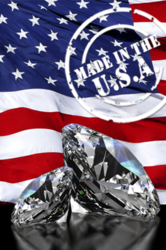 "The day that Brilliance cannot produce jewelry that exceeds the customer's expectations is the day I resign. I need to ensure that all segments of the production line are flowing smoothly, under my close supervision."

(PRWEB) September 28, 2011
During a time when most diamond purveyors are opting to outsource their labor to offshore companies in order to lower costs, Brilliance's pioneering move is worthy of exceptional praise as they continue to provide customers with the best quality products at affordable prices – from casting, polishing, and setting, each piece is crafted by a master jeweler in-house, giving clients the highest quality product possible.
Offshore outsourcing may be guaranteed cheap labor, but quality is usually compromised. An article published in Forbes (2011) by Tim Worstall concurs, "…there are perils associated with such outsourcing. One in particular is the quality of product that comes back." Stones are not set properly and may eventually loosen over time. The finish is also of poor quality, and while repair services are readily available and may provide the band-aid solution, it will never quite achieve the appearance of a true quality piece.
The Ethical Jewelry Handbook by Fair Jewelry Action, a prominent grass-roots organization that promotes ethical jewelry practices, cautions manufacturers who outsource to be aware of international suppliers who misrepresent information. The distance and lack of supervision allows for unreliable assays of the metal, which means that a ring that bears an18K gold stamp may actually contain only 14 Carats.
Brilliance's team of experts handles the entire jewelry-making process and keeps a strict quality control to ensure that their merchandise is of the finest in the business. The company understands that something as valuable as diamonds should not be handled carelessly. By keeping its business firmly rooted home, Brilliance is able to provide products and services that are a cut above the rest.
"I cannot tolerate inferiority," declares Jonathan, Director of Brilliance, "The day that Brilliance cannot produce jewelry that exceeds the customer's expectations is the day I resign. I need to ensure that all segments of the production line are flowing smoothly, under my close supervision."
Brilliance is dedicated to pleasing their clients, and maintains a commitment to flexibility and speed. Because the jewelry casting is done on premises, custom rings are delivered in as little as 3-4 days! Turnaround time on most other companies ranges from 6-9 weeks, all the way up to 6 months.
"Made in the USA" proudly proclaims patriotic loyalty to our home country, creating more jobs for Americans and bringing financial relief in insecure economic times. Many organizations, among them the notable American Tea Party movement, are campaigning for production and the purchase of goods made in America.
Brilliance Diamonds has responded to their call.
Visit Brilliance, the best choice for quality and price. Visit http://www.brilliance.com today!
###