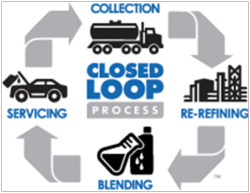 ECO ULTRA enables Oil Can Henry's to provide our customers with oil change options that match their lifestyle choices.
TUALATIN, Ore (PRWEB) September 29, 2011
The numbers are staggering: each year, the United States imports more than 179 billion gallons of petroleum and produces approximately 1.3 billion gallons of used oil. Only ten percent of that used oil is collected and re-refined for future use; the overwhelming majority of used oil is improperly disposed of or burned as an industrial fuel.
Re-refined motor oil — produced from used oil that is collected, re-refined to remove impurities and then improved with additives — is an increasingly popular option for consumers seeking an oil that's better for the environment and reduces our dependence on foreign oil. For example, using re-refined motor oil for just one four-quart motor oil change reduces the nation's need to import oil by two barrels.
Just last month, all Oil Can Henry's service centers signed on to carry ECO ULTRA — a premium re-refined motor oil containing seventy percent recycled oil — making it the first regional oil change company to offer the product to its customers.
Oil Can Henry's, a regional oil change and vehicle maintenance company with 87 service centers in six Western states, has been recycling used oil from its customers for more than 30 years and, over the course of the past 15 years, has expanded its recycling program to include used oil filters, coolant, wiper blades and other items. Now the company is educating drivers about re-refined motor oil, addressing misconceptions and explaining how it helps preserve natural resources and reduce our nation's dependence on foreign oil.
"ECO ULTRA enables us to provide our customers with oil change options that match their lifestyle choices," said John E. Shepanek, chairman of Oil Can Henry's. "This high-quality synthetic blend oil is made right here in the U.S., creating jobs and decreasing our dependence on foreign oil. It's a natural choice for drivers seeking to reduce their impact on the environment."
Misconceptions have impeded widespread acceptance of re-refined oil, but that's changing as consumers come to understand that the additives in oil wear out, but the base oil itself never wears out and can be re-used over and over.
Distinguishing itself as the only "closed-loop" manufacturer of recycled oil in the U.S., Universal Lubricants (the producer of ECO ULTRA) collects used oil, then re-refines, blends, packages and redistributes its own oil — never losing guardianship within the chain. This cycle is infinitely repeatable and as such, is the most sustainable car care practice in existence.
PLEASE SEE INFO-GRAPHIC TO RIGHT illustrating the "closed-loop" process provided to Oil Can Henry's by Universal Lubricants and is used with its permission. This info-graphic can be re-printed or used online.
Motor oils made with virgin and re-refined base oils are subject to the same performance standards by the American Petroleum Institute. Lab and field tests conducted by the National Institute of Standards and Technology, the U.S. Army, the U.S. Department of Energy, and the U.S. Environmental Protection Agency demonstrate that the quality of re-refined and virgin motor oils are equivalent .
FACTS and FIGURES (as provided by Universal Lubricants):

The entire process of re-refining motor oil uses up to 89% less energy than refining oil from virgin crude, a significant reduction in the overall impact to our environment.
Re-refining oil produces up to 65% less environment-impacting emissions than refining crude.
One barrel of used motor oil creates the same amount of motor oil as 50 barrels of crude.
When using ECO ULTRA for an average four quart motor oil change, the national need to import oil is reduced by two barrels, every time.
Discarded oil from a single oil change can contaminate up to one million gallons of water, that's the amount of water needed by 50 people for an entire year.
The U.S. Environmental Protection Agency estimates 200 million gallons of used motor oil is dumped illegally each year.
ECO ULTRA contains one of the highest percentages of recycled oil.
Oil Can Henry's provides convenient oil changes and other vehicle maintenance services, earning customers' trust by allowing them to relax in their vehicles and watch as trained technicians perform the services they request. Making a commitment to the communities it serves has always been one of the company's core values. It annually offers college scholarships to high school seniors and makes substantial donations to Susan G. Komen for the Cure®, while continuously refining innovative recycling programs for used oil, filters, coolant and other paper and plastic products. Formed in 1978, the company services more than one million vehicles a year at its 87 centers in Arizona, California, Colorado, Idaho, Oregon and Washington.
Learn more at http://www.oilcanhenrys.com.
# # #