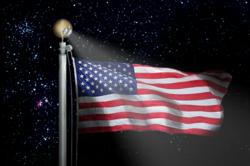 (PRWEB) September 30, 2011
"Driven as much by the desire to show proper respect for Old Glory as they are for energy efficiency, homeowners have patiently waited for a solar version of our Flagpole Beacon to come out and now we have a product ready for them", stated Mike Lawrence, Vice President of Marketing and inventor of the Flagpole Beacon. "Now this one product will take care of both needs."
This residential solar design for homeowners is the natural follow-up to the commercial solar version that was successfully introduced in January. Although there are several solar light applications for residential flagpoles available in the marketplace, "None of them is our patented product that is so successful in the commercial realm", notes Lawrence. (Indeed, they look like everything from shower heads to wilted yard lights.) The idea all along was to provide a quality product for the homeowner that was every bit as strong and reliable as the commercial product, yet simple to use.
It's a win-win for the homeowner. The Solar Residential Flagpole Beacon does not require a qualified electrician to install. It does not require many feet of wire to plug into anything. Sunshine stores all the energy needed for up to thirty-six hours of running time for the LED bulb. Thanks to the commercial rated, heavy duty five watt collector, the Solar Residential Flagpole Beacon has a fast re-charge. The large, twelve volt, three amp battery pack and easy on/off switch complete the product.
Simple is best and that's as simple as it gets.
About The Flag Company, Inc.:
The Flag Company, Inc. offers a complete range of flags and flag-related products in addition to its line of flagpoles and Flagpole Beacon. Custom screen printing and digital printing are available for special events, corporate logos, etc. Stock merchandise includes U.S., state international and military flags and all types of accessories such as bunting, memorial cases, pennants and more. The Flag Company, Inc. is the nation's largest producer of message flags, offering over 300 different messages, which are used by realtors, restaurants, car dealerships and every other kind of company imaginable. Toothpick flags – both stock and custom-made to order – are also available. The complete product line can be viewed at the website, http://www.flagco.com. "Feel Good Light-Ups", a decorative light lens for fluorescent light fixtures became so popular that they have their own website, http://www.feelgoodlightups.com. Flagpoles and Flagpole Beacon are featured at http://www.flagpolewarehouse.com
###