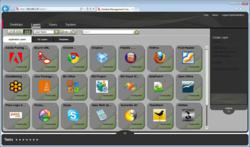 (Unidesk) integration with VMware View and minimal use of storage makes it a home run for us.
- Jeremy Pollack, Director of IT at the UConn School of Business
Marlborough, Mass. (PRWEB) September 28, 2011
Unidesk® desktop management software for Virtual Desktop Infrastructure (VDI) is enabling the University of Connecticut (UConn) to expand its state-of-the-art desktop virtualization implementation to a variety of new use cases, including an advanced statistics class and faculty and staff desktops. The Unidesk implementation is part of a phased virtual desktop rollout currently underway at UConn.
UConn vPC is a collaborative project among the School of Business, School of Engineering and University Libraries that will include 700 sessions this fall. Deployed on the university's VMware vSphere® virtual infrastructure, the VDI project also incorporates VMware View™ brokering software,Dell PowerEdge M1000E + M710HD servers and Dell EqualLogic SANs. UConn will discuss its VDI strategy on a webinar hosted by Dell and Unidesk on Thurs., Sept. 29 at 2:00 pm ET, and is chronicling its project progress at http://vpc.uconn.edu
UConn's Unidesk desktops, planned for faculty and academic staff as well as student use, are unique because they go beyond the typical "non-persistent" university lab desktops that are reset after each use. With Unidesk, UConn can offer its end users a fully customizable, "persistent" user experience that preserves all customizations. This capability is critical in classes such as the School of Business' predictive modeling course for master's degree candidates, where students use SAS and other high-end software, and need to save their unique application settings and work environment, data, user-installed applications, and plug-ins. At the same time, Unidesk gives IT greater control over these persistent desktops by enabling them to be provisioned and patched from the same set of non-persistent operating system and application layers.
"It's a myth that VDI is only appropriate for locked down users or limited applications," said Jeremy Pollack, Director of IT at the UConn School of Business. "VMware View has been very successful in our non-persistent lab and instructional environments, and we have been able to streamline application management in these use cases with VMware ThinApp. By adding Unidesk as our desktop management platform, we're able to satisfy users who need full persistence, and reduce the operational costs of deploying and managing the many applications we don't have the time or resources to virtualize."
The Business School Unidesk desktops are serving as a pilot for other use cases, including faculty and staff desktops that have already been rolled out, and the campus-wide expansion that is planned over the next six to 12 months. With the UConn vPC, students have access to UConn licensed applications from their PCs, Macs, and mobile devices from anywhere in the world that has Internet access.
Continued Pollack, "UConn is a university with tremendous application and use case diversity, so Unidesk's ability to extend our VDI environment to more users, while making it easy for our administrators to provision, patch, and repair even highly customized desktops, is critical. Its integration with VMware View and minimal use of storage makes it a home run for us."
Unidesk currently offers a promotional program for education customers like UConn that want to take advantage of the combination of VMware View Premier and Unidesk. The Unidesk Promotional Program for VMware View Premier in Education is open to both existing and new education customers worldwide until Dec.15, 2011. For more information and applicable terms and conditions, please visit: http://www.unidesk.com/landing/vmware-view-unidesk-education.
"We're delighted to be an integral part of UConn vPC," said Tom Rose, Unidesk Chief Marketing Officer. "Forward-thinking educational institutions are realizing that it's easier to cost-justify VDI projects if more users use it and improvements in IT operational efficiency can be shown. Unidesk desktop management software for VDI is unique in its ability to do both."
To register for the UConn Webinar on Sept. 29, please visit: http://www.unidesk.com/landing/customer-webinar-uconn-website
About Unidesk
Unidesk® Corporation (http://www.unidesk.com) enables customers to centralize more desktops on data center servers and realize the full potential of Virtual Desktop Infrastructure (VDI). Unidesk's patent-pending desktop layering technology works with VDI access solutions such as VMware View™ and Citrix® XenDesktop® to sustain all desktop customizations for end users, while enabling IT to provision and patch all desktops from a single set of shared operating system and application layers. By creating uniquely personal, storage-efficient, and easy-to-manage virtual desktops on VMware infrastructure that can satisfy almost any use case, Unidesk desktop management software for VDI reduces desktop operations costs up to 30%, cuts VDI storage costs up to 70%, and fosters a more productive, agile workforce. Unidesk Corp. is a privately-held company with headquarters in Marlborough, Mass, USA.
VMware, VMware View, and VMware vSphere are registered trademarks and/or trademarks of VMware, Inc. in the United States and/or other jurisdictions. Unidesk® is a registered trademark of Unidesk Corporation. All other trademarks and registered trademarks are property of their respective owners.
###