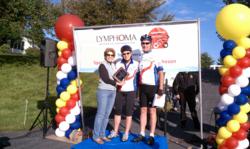 Montgomery County, MD (PRWEB) September 28, 2011
The Lymphoma Research Foundation (LRF) – the nation's largest non-profit organization devoted exclusively to funding lymphoma research and to serving those touched by the disease – held its Fifth Annual Lymphoma Research Ride on September 18, 2011 in Montgomery County, Maryland. The 2011 Research Ride raised more than $450,000, with 240 riders cycling for a cure.
The Lymphoma Research Ride is a non-competitive bike ride where survivors, families, friends, individuals, community teams and corporate teams ride in honor and in memory of those whose lives have been touched by lymphoma. Participants can choose to ride either a 25 or 50 mile route.
"The Lymphoma Research Ride was a huge success for the Lymphoma Research Foundation, raising almost a half million dollars for lymphoma research," said Diane Blum, LRF Chief Executive Officer. "We are sincerely grateful for the commitment and dedication of the talented volunteers who help make the ride so wonderful each year, especially Dr. Bruce Cheson and his wife Christine. Because of them we are that that much closer to discovering better treatment options for patients living with lymphoma and, ultimately, a cure."
The Lymphoma Research Ride was founded five years ago by Dr. Bruce Cheson, Deputy Chief - Division of Hematology-Oncology and Head of Hematology at the Lombardi Comprehensive Cancer Center at Georgetown University Hospital and chair of the Foundation's Scientific Advisory Board, and his wife Christine Cheson to increase lymphoma awareness and raise vital funds for cancer research. Since its inception, the Lymphoma Research Ride has raised nearly $2 million for lymphoma research.
"The Lymphoma Research Ride is such a wonderful experience – the celebration, the spirit, the support; it is so important to these riders to show the world that when they put their bottom on a bike seat, and ride many miles uphill, this is no more steeper a climb than the one they have undertaken in their fight against a potentially fatal disease," said Dr. Cheson. "The funds raised from the Lymphoma Research Ride have had and continue to have a meaningful impact on cancer research; this is a very exciting time because of what we are learning about the science of lymphoma that is being applied to the clinic."
For more information about the Lymphoma Research Ride, including photos from the event, and/or for information about lymphoma, please visit the LRF website: http://www.lymphoma.org.
About the Lymphoma Research Foundation
The Lymphoma Research Foundation (LRF) is the nation's largest non-profit lymphoma organization devoted to funding innovative research and providing people with lymphoma and healthcare professionals with critical information on the disease. To date, LRF has awarded more than $47 million in lymphoma-specific research.
For additional information on LRF's programs and services, visit http://www.lymphoma.org.
###