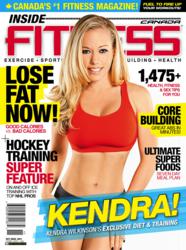 Kendra Wilkinson's Exclusive Diet & Training!
Oakville, Ontario (PRWEB) September 29, 2011
Inside Fitness, Canada's #1 Fitness Magazine, releases their Fall spectacular October/November issue featuring Hollywood blonde bombshell Kendra Wilkinson gracing the cover! The issue, the 29th in the magazine's history, comes complete with exclusive, never-before seen pictures of Kendra and a feature interview, where, for the first time ever in print, Kendra reveals the diet and training program she used to lose 60 pounds of post-pregnancy baby weight with the help of celebrity trainer Nicky Holender. And the timing couldn't be more perfect, as Kendra's new book, 'Being Kendra; Cribs, Cocktails & Getting My Sexy Back,' is set to be released on September 20th and the season debut of her reality show 'Kendra' is scheduled to air September 25th on the E! Network.
In addition to the Kendra feature spotlight, this issue of Inside Fitness Magazine is also packed with detailed health, fitness, wellness, bodybuilding and strength & conditioning editorial content that you can't find anywhere else, including an NHL hockey training super feature where the magazine takes an inside look at how top NHL pros like Mike Cammalleri, Jason Spezza, Ray Emery, Kris Letang and Brian McGrattan train for the fastest game on ice under the guidance of expert strength conditioning coaches like Matt Nichol, Jonathan Chaimberg and Juri Byrski from Sk8on Hockey.
Also part of the editorial line-up for this Fall spectacular issue of Inside Fitness is the incredible story of Furious Pete (a man who battled back from the brink of death to become a competitive eating champion, while building an impressively muscled physique along the way), a core strengthening feature that will have your abs showing in no time, an article on how to build bigger biceps in 8 short weeks, a 7-day ultimate super food meal by meal breakdown diet plan, and important details on how to gauge the difference between good calories and bad calories so you can lose fat now!
At more than 220 pages the 29th issue of Inside Fitness is also stocked with its regular line-up of Health Notes, Food Notes, Exercise Notes, Strength Notes, Science Notes, Sex Notes, a Sports Nutrition Insider feature that reveals the latest on some of the industry's hottest ingredients, a Muscle Food section that delivers with delicious and nutritious physique-friendly recipes, and the magazine's usual line-up of the best of the best inside experts in the industry dealing up the training, diet and supplementation advice you need to get in, and stay in shape this Fall.
The October/November issue of Inside Fitness Magazine is on sale now at all major newsstands across Canada, including Shoppers Drug Mart, Sobey's, Walmart, Chapters/Indigo, Mac's and many more retailers from coast to coast, including all of the country's major airports; perfect for you Fall travelers looking for some reading material for that long flight. In the United States, this issue will be available at all major bookstores, including Barnes & Noble, Borders, Books-A-Million and Hastings. Worldwide newsstand circulation includes Australia, England, Italy, Germany, Austria, Brazil and Sweden just to name a few.
About Inside Fitness Magazine
Inside Fitness is Canada's #1 fitness magazine and is published by IFM Media Inc.; one of Canada's fastest growing publishing companies. The magazine caters to readers all over the world, and is a collaboration of some of the brightest and most knowledgeable fitness, health, injury prevention and bodybuilding experts in the industry; including the likes of Dr. Jose Antonio, Dr. John Berardi, Dr. Carla Cupido, Jonathan Chaimberg, Slice TV's Tommy Europe, Frank Sepe, Nancy Ripton, Rehan Jalali, and many, many more! You can subscribe to Inside Fitness Magazine at http://www.insidefitnessmag.com
and also follow the magazine on Facebook , Twitter on the magazine's dedicated YouTube.
Contact:
Michelle Shaw
Marketing Manager
michelle(at)ifmmedia(dot)com
905-842-1512 x 112
IFM Media Inc.
###