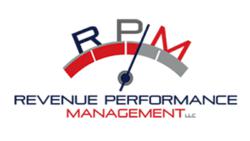 Cincinnati, Ohio (PRWEB) September 30, 2011
Revenue Performance Management, LLC announced today the official launch of their new Business Intelligence tool, the RPM Dashboard. Showcased this past week at the NAPS conference in Las Vegas, the new software program was well received and on the fast track for success. Designed as a metrics management system for helping individual recruiters and owners achieve maximum performance, the RPM Dashboard allows users to set goals, calculate metrics and view weekly data in an interactive dashboard format. More importantly however, RPM makes a critical leap by providing actionable expert subject matter information to managers and users to that can impact performance immediately. While no software can replace a human coach, RPM reaches higher than any previous metrics package to quantify the active recruiting efforts performed by third-party search firms and larger corporations with sales-based recruitment cultures.
"Users are seeing amazing results by utilizing the RPM Dashboard. Not only is this system a cloud based tool that is very interactive and graphical, it uses trend data to predict the future and gives very specific suggestions to improve company and individual performance. It also compares the performance to the entire industry by bench marking the core KPI's. Most Business Intelligence tools are rear view mirror focused –showing only past data. The RPM dashboard provides exceptional Business Intelligence of past data, but the true value comes from the fact that its main focus is on predicting industry trends and providing information to make changes that can impact future performance." - RPM President and CEO Jon Bartos
RPM enters the market partnered with key vendors of recruitment technology and services:
Sendouts.com and PCRecruiter (by Main Sequence Technology) integrate RPM into their market-leading recruiting database platforms. Next Level Exchange is a premier provider of targeted recruitment training resources and Management Recruiters International is the largest franchisor of search businesses in the world.
Early customers are delighted with the solution:
"RPM has revolutionized how our Account Executives look at metrics. Dare I say 'fun'? The AE's are actually asking me about their numbers," said Kirk Sears, President, Wilmington ESG, Inc. - Human Capital Specialists
"This easy-to-use data management tool is simple and informative. You can quickly gauge your key metrics and trends to make adjustments as needed. All Sales People need an occasional coaching "tune-up" and this system provides great content for that coaching moment," said Alan G. Bauer, President, Bauer Consulting Group, Inc.
To find out more about the RPM Dashboard, go to http://www.rpmdashboard.com or call 513-701-5900.
About RPM/Revenue Performance Management, LLC:
RPM is a Business Intelligence organization focused on providing cloud based software technologies and tools for metrics management, performance evaluation and enhancement . Based on the concept that Recruiting/Sales is a Science, RPM was founded by Jon Bartos and Stephen Chan and designed initially for the recruiting industry to allow users the ability to attain their maximum performance potential . Top thought leaders, Pasquale Scopelliti, Bob Marshall and Mike Gionta have joined the RPM team as certified coaches.
About Main Sequence Technology:
Founded in 1998, Ohio based Main Sequence Technology Inc. creates talent acquisition technology solutions wherever and however organizations are built. The flagship solutions, PCRecruiter and PCRecruiter Portal for Microsoft Outlook, are the technology of choice for thousands of third party recruitment, direct-hire, and outsourced staffing teams. Main Sequence provides customizable CRM and Applicant Tracking functionality converged into a single database, voice, and email interface for both On-Demand and Self-hosted (licensed) versions. http://www.pcrecruiter.net
About Sendouts:
Sendouts is the leading, single source provider of recruiting software for third party staffing and recruiting firms. Sendouts web-based recruiting software enables recruiting firms to streamline their recruiting process, increase productivity, and make more placements. Additionally Sendouts provides unparalleled training and support and is backed by an industry leading 98% customer satisfaction rate. Sendouts clients on average achieve an internal growth rate of 48% and increase job order fill rates by over 20%. Sendouts helps more than 1,200 firms automate and manage the entire recruiting process, from sales to final placement. For more information, visit http://www.sendouts.com or call 877-309-5222.
About Next Level Exchange:
Next Level Recruiting Training is a professional services firm dedicated to elevating the recruiting industry to the Next Level. With a proven team of recruiting professionals, including multi-million dollar producers, team leaders and marketing professionals, Next Level Recruiting Training is a forward-thinking resource for recruiting and executive staffing firms seeking to build a successful and highly profitable future. http://www.nextlevelexchange.com
About the MRINetwork:
Management Recruiters International, Inc., branded as MRINetwork (http://www.mrinetwork.com), is one of the largest executive search and recruitment organizations in the world. A subsidiary of CDI Corp. (NYSE:CDI), a global provider of engineering & information technology outsourcing solutions and professional staffing, the MRINetwork has 850 franchised offices in 35 countries.
###