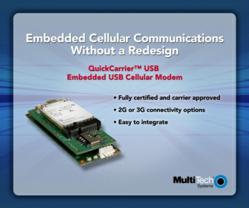 Companies don't have to incur the costs, time and uncertainties associated with having their end-solution go through cellular certifications process.
- Rick Bailey, Senior Product Manager
Minneapolis, Minn. (PRWEB) September 28, 2011
Multi-Tech Systems, a world leading manufacturer of cellular modems for M2M (machine-to-machine) communications, announces the QuickCarrier USB™ embedded cellular modem, a complete, ready-to-integrate communications device that offers 2G or 3G cellular connectivity options and a USB carrier card in one compact design. This unique solution is ideal for companies with industrial PC applications that use a Windows® or Linux® operating system and now wish to add wireless connectivity.
With its 4-pin USB interface, the QuickCarrier USB embedded cellular modem cables to an existing device's internal USB port and can be secured using the four mounting holes located at the corners of its printed circuit board. Embedding M2M connectivity into a Windows® or Linux device has never been this quick, easy or cost-effective.
"The obvious benefit with the QuickCarrier USB is that it allows companies to add cellular M2M without hardware redesign. Another major benefit is that the solution incorporates a carrier approved SocketModem® embedded cellular modem, so companies don't have to incur the costs, time and uncertainties associated with having their end-solution go through cellular certifications process," said Rick Bailey, senior product manager, Multi-Tech Systems.
Available for purchase in the fourth quarter of 2011, interested parties can learn more about the QuickCarrier USB solution at Multi-Tech's Booth (#815) at the Embedded Systems Conference in Boston, MA or obtain a product datasheet, which is available at http://www.multitech.com/qcusb.go.
About Multi-Tech Systems
Multi-Tech Systems offers the industry's most comprehensive M2M (machine-to-machine) communications products and services portfolio available today. As a leader in the industry for more than 40 years, Multi-Tech's reputation for reliability and innovative design is evident with 80+ patents, 20+ million devices being used by thousands of customers worldwide and certifications from more than 30 carriers and over 80 countries. Multi-Tech is certified by the WBENC as a Women's Business Enterprise and by C-TPAT (Customs–Trade Partnership Against Terrorism). Visit http://www.multitech.com. Follow Multi-Tech on Twitter: twitter.com/MultiTechSys.
# # #