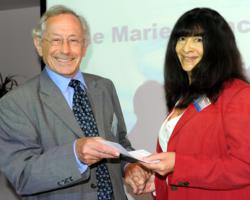 The winning paper has informed clinical practice in terms of advice and counselling in tinnitus clinics nationally, and it is vital that such research into tinnitus continues so that one day a cure for tinnitus can be developed.
(PRWEB UK) 28 September 2011
The Marie & Jack Shapiro Prize is given each year at the BTA Conference to the piece of published research, by a UK based author, Most likely to result in improved treatment or public awareness of tinnitus,' that was published in the last calendar year. The prize is named after the late Jack Shapiro, the founder of the British Tinnitus Association, and his wife Marie, who both played an important role in the establishment of the charity during the 1970s and in raising awareness of tinnitus.
St. Claire's paper was one of nine which was shortlisted for the prize, making 2011 a record year in terms of the number of papers shortlisted. The judging panel was formed of the BTA's Professional Advisers' Committee and its Council of Management.
The St Claire paper identified that there is no evidence to suggest that abstinence from caffeine can alleviate tinnitus symptoms, and in fact the reverse may be true. The research highlighted the need for further evidence-based approaches and is likely to prompt a change in clinical practice which will affect the lives of thousands of tinnitus patients. The judges considered that it is an original and important addition to existing literature, which is well thought through and has convincing results, on a topic that has long been overlooked until now.
David Stockdale, CEO of the British Tinnitus Association, said: "There were many interesting and highly commendable research papers in the running this year, and we are very grateful to all those who have undertaken research into tinnitus with the aim of developing existing knowledge and understanding about the causes of the condition."
He continued: "The winning paper has informed clinical practice in terms of advice and counselling in tinnitus clinics nationally, and it is vital that such research into tinnitus continues so that one day a cure for tinnitus can be developed."
Prize winner Dr Lindsay St Claire a Chartered Health Psychologist with a background primarily in Social Psychology, said: "The team involved in the research is thrilled and extremely proud to have been recognised by the BTA. We want to champion evidence-based practices to help people with tinnitus and to challenge "therapies" and misleading advice which are not only useless, but also irksome and possibly distressing for tinnitus patients."
Vivienne Michael, Chief Executive of Deafness Research UK, which funded the winning research, said: "This is an excellent example of groundbreaking research supported by Deafness Research UK that is having a real impact on people's lives and we are pleased to see Dr. St. Claire's work recognised in this way. For many years there has been a commonly held belief that caffeine is a major aggravator of tinnitus symptoms – now this research provides some of the first evidence to challenge the theory that caffeine triggers or aggravates tinnitus."
The BTA's annual Conference is renowned for bringing together world-leading experts in the field of audiology. Presentations on the day included those from Dr Roland Schaette – who is currently undertaking clinical research into tinnitus at the UCL Ear Institute, London on behalf of the BTA - as well as:

Christine Tan - Patterns of hearing loss in people with and without tinnitus
Derek Hoare - Harnessing sound to manage tinnitus: evidence, theories and translational research
Adrian Davis - Sustaining a tinnitus service in the healthcare landscape
Michelle Booth - Measuring the impact of a direct access tinnitus pathway
Laurence McKenna and Jenna Love - Mindfulness and tinnitus (The Jack Shapiro Memorial Lecture)
David Barrow - Tai Chi as rehabilitation in audiological services
Ends
Editors Notes
The BTA is an independent charity which supports thousands of people who experience tinnitus and advises medical professionals from across the world.
The British Tinnitus Association strives to be the primary source of support and information for people with tinnitus in the UK, thereby facilitating an improved quality of life. It aims to encourage prevention through its educational programme and to seek a cure for permanent head noise through a medical research programme.
Not an illness or disease, tinnitus is a term that describes the sensation of hearing a noise in the absence of an external sound. The noise can have virtually any quality. Ringing, whistling, and buzzing are common, but more complex sounds may also be reported. Troublesome tinnitus can be very distressing for the affected individual, and issues may arise with sleep, concentration and mood. However, in many cases, subtle changes in people's environment can address these issues, and improve quality of life.
The experienced team at the BTA understands the impact that tinnitus can have on the lives of those who experience tinnitus and those who live with them, so seeks to provides the most appropriate and expert advice and information free of charge – via a confidential freephone helpline on 0800 018 0527 and online at http://www.tinnitus.org.uk. The BTA can also post printed and audio information and advice.
Visit the BTA's Facebook page at http://www.facebook.com/BritishTinnitusAssociation and follow the BTA on Twitter at http://www.twitter.com/BritishTinnitus
For more information
Contact: Zoe Hiljemark, PR Account Director / Jenny Pearce, Senior PR Account Executive
E-mail: zoe(at)marketing-matters(dot)co(dot)uk / jenny(at)marketing-matters(dot)co(dot)uk
Tel: +44 (0) 1202 777111 / +44 (0) 7770 924439
Address: Marketing Matters, Unit C, Acorn Business Park, Ling Road, Poole, Dorset, UK, BH12 4NZ
###