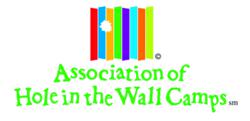 Westport, CT (PRWEB) September 29, 2011
Although September signals the end of summertime pleasures like camp, The Association of Hole in the Wall Camps (The Association) continues to bring this experience to children throughout the year. This fall, the camps are expanding their innovative hospital programming due to $500,000 in support from branded play company, Hasbro, Inc. The two-year grant, made through the Hasbro Children's Fund, will bring the Hospital Outreach Program (HOP) to thousands of in-patient children with serious illnesses in California, Massachusetts, Rhode Island and Washington. The program is also offered to in-patients through Hole in the Wall Camps in Italy and Ireland.
The HOP program is the Association's largest growth initiative and is armed with a team of trained therapeutic play specialists who help to replace fear, loneliness and uncertainty with hope, joy, and a sense of belonging that helps the children overcome their illness.
The Hole in the Wall Gang Camp, located in Ashford, CT and also the charter member of The Association of Hole in the Wall Camps, developed the initial concept of bringing a hopeful, playful spirit of camp to children's bedsides. Since 2005, the HOP program has brought joy and coping skills to more than 70,000 children, restoring childhood during a time in which children are forced to grow up too quickly.
"Hasbro and the Association of Hole in the Wall Camps share a common belief that the power of play has the ability to make a meaningful impact in the lives of children with serious illnesses," according to John C. Read, president and CEO of the Association of Hole in the Wall Camps. "Thanks to Hasbro's generous gift, we can increase our efforts throughout the year to bring joy into the lives of many more children with serious illnesses in hospital locations across the U.S. and Europe. Together we can help empower these children to simply be kids again."
Hasbro's close philanthropic partnership with the Association of Hole in the Wall Camps is rooted in its mission to help children triumph over their critical life obstacles and to bring the joy of play into their lives. Since 2005, Hasbro has contributed more than $1.8 million in financial support and toy donations, in addition to hundreds of employee volunteer hours, to help create the wonderful experience that is delivered to children at the Hole in the Wall Camps across the globe.
"Hospitals can be a very frightening place for children, especially those who need to stay there for extended periods of time," said Brian Goldner, president and CEO of Hasbro, Inc. "We are excited to help Hole in the Wall bring their fun and creative programs to thousands more children in hospitals, helping them to focus less on their illnesses and more on smiling."
As a result of Hasbro's support, the HOP program will provide more robust programming in existing sites while reaching more than 4,800 new children. Expansion will take place in areas such as:

Milan, Italy (Clinica Pediatrica De Marchi via Dynamo Camp)
Liverpool, UK (Alder Hey Children's Hospital via Barretstown)
Los Angeles, CA (Children's Hospital LA; Miller Children's Hospital; Cedars-Sinai Medical Center; LA County Hospital; Shriner's Hospital for Children – Los Angeles via The Painted Turtle)
Providence, RI (Hasbro Children's Hospital via the The Hole in the Wall Gang Camp)
Seattle, WA (Seattle Children's Hospital via Camp Korey)
Springfield, MA (Baystate Children's Hospital via The Hole in the Wall Gang Camp)
For more information on the Association of Hole in the Wall Camps partnership with Hasbro, visit http://www.holeinthewallcamps.org/hasbro
# # #
______________________________________________________________________________
Association of Hole in the Wall Camps
Founded by Paul Newman, the Association is a growing global network of innovative camps and programs that provide life-changing support for children with serious illnesses and their families. Currently, the Association consists of 28 initiatives worldwide, including 14 camps, 10 Global Partnerships, and 4 camps in development. In 2010, more than 47,800 people were served by these programs. Since 1988, over 337,500 people have been served, including more than 152,000 children from 50 countries. The Association of Hole in the Wall Camps is an independent not-for-profit organization dependent on the generosity of private donors to serve all children free of charge. Learn more at http://www.holeinthewallcamps.org.
Hasbro, Inc.
Hasbro, Inc. (NASDAQ:HAS) is a branded play company providing children and families
around the world with a wide-range of immersive entertainment offerings based on the
Company's world class brand portfolio. From toys and games, to television programming,
motion pictures, video games and a comprehensive licensing program, Hasbro strives to delight
its customers through the strategic leveraging of well-known and beloved brands such as
TRANSFORMERS, LITTLEST PET SHOP, NERF, PLAYSKOOL, MY LITTLE PONY, G.I.
JOE, MAGIC: THE GATHERING and MONOPOLY. The Hub, Hasbro's multi-platform joint
venture with Discovery Communications launched on October 10, 2010. The online home of The Hub is http://www.hubworld.com. The Hub logo and name
are trademarks of Hub Television Networks, LLC. All rights reserved. Hasbro's philanthropic
work strives to bring "the sparkle of Hope, the joy of Play and the power of Service" into the
lives of the children who need it most through the Hasbro Children's Fund and other initiatives
aimed to help children worldwide. Come see how we inspire play through our brands at
http://www.hasbro.com.