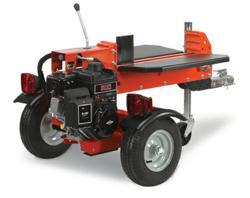 Twice the speed; half the weight!
Vergennes, Vermont (PRWEB) September 30, 2011
Introducing the new DR® Dual-Action Log Splitters:
While most hydraulic log splitters on the market will get the job done, they can be painfully slow to use. An operator has to wait up to 20 seconds between splits, often keeping a hand on the lever while the ram retracts, then has to pick up the next log and do it all over again. Twenty seconds between splits over the course of the day can add up to hours. DR Power Equipment scrapped the old technology and redeveloped hydraulic splitters to offer a fast and powerful alternative, DR® Dual-Action Log Splitters.
A simple insight has made hydraulics powerful and for the first time…FAST! DR's new heavy-duty hydraulic splitters are dual-action. The X2 Ram—a double-edged splitting wedge—splits in both directions under constant hydraulic pressure, so there's no waiting for the ram to retract.
DR has taken dual-action technology and delivered a complete lineup to fit virtually every homeowner's needs—whether homeowners have a tractor and want 6-second cycle times from their tractor's 3 pt hitch, want a stand-alone gas model, or want the quiet, fume-free convenience of a powerful electric splitter that can be run in the barn or garage.
The power of the X2 Ram is generated by commercial-grade powerplants—both gas and electric. DR designed and engineered Dual-Action models to deliver faster splits no matter how tough the wood. Further improvements include a compact package made to fit in a corner of a homeowners garage or barn when not in use.
These machines weigh less than half of most conventional hydraulic splitters, so they are easy for one person to maneuver and Dual-Action splitters are road towable. Available fenders, tail lights, and ball hitch allow for on-road towing at speeds up to 30 MPH.
DR also introduces conversion kits for manual-start Dual-Action models.
For those that own the gas model and want the convenience of electric, or want to punch up the power of their electric, DR sells conversion kits. A great DIY solution, these kits turn one splitter into an all-purpose, all season winner. Homeowners can fit up their splitter to run on the 1.8KW electric motor conveniently stored in their garage in the winter and then set the splitter to run on the manual-start 205cc Briggs and Stratton gas engine out in the field in the summer.
Pricing and Warranties:
DR® Log Splitters start at $999, with special introductory discounts.
DR offers their standard 6-Month Hands-On Trial, but as an introductory offer that period is being doubled through the end of 2011…meaning a customer has a full year to try a wood splitter on their own property. If they're not 100% satisfied within one year of the ship date, for any reason, they'll get a complete refund, less shipping and handling.
As with all DR® power equipment products, the new Dual-Action Log Splitters are the culmination of hundreds of hours of engineering and rigorous comparison testing.
In addition to the product trial period, DR® Power Equipment also offers a 2 year warranty on Dual-Action Log Splitters (90 days in commercial use).
Contacts:
For more information, please contact Julia Gilbert, jgilbert(at)drpower(dot)com, 802-877-1200 ext. 1118.
DR® Power Equipment, a division of Country Home Products, Inc., the premiere developer and marketer of professional-grade outdoor equipment for residential use, was founded in 1985 in Charlotte, Vermont. For more information on its complete line of power equipment and home care supplies, visit the web site at http://www.drpower.com.
###