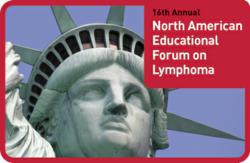 (PRWEB) September 28, 2011
Every four minutes, someone in the United States is diagnosed with a blood cancer. In fact, there are more than half a million people in the United State living with, or in remission from, lymphoma, the most common form of blood cancer. Despite these shocking statistics, many people do not know much about the disease, or any of the other blood cancers, until they are diagnosed. That is why the Lymphoma Research Foundation (LRF) – the nation's largest nonprofit organization devoted exclusively to funding innovative lymphoma research and serving those touched by the disease – proudly participated in National Blood Cancer Awareness Month this September.
As part of a national initiative, LRF hosted events around the country intended to educate the public about the blood cancers and to help raise funds for lymphoma research. Buildings and iconic landmarks around the country participated in the Foundation's first-ever Light it Red for Lymphoma campaign, including the Intrepid Sea, Air & Space Museum, the New York Stock Exchange, and Brooklyn Borough Hall in New York; Willis Tower, 150 N. Michigan Avenue, the Aon Building, and the Jay Pritzker Pavilion in Chicago; and the I-35W St. Anthony Falls Bridge in Minnesota.
"Blood Cancer Awareness Month is critical because lymphoma is such a complicated disease, so awareness and education are powerful tools in our efforts to find a cure for lymphoma," said Diane Blum, LRF Chief Executive Officer. "The Lymphoma Research Foundation is committed to ensuring that those affected by a lymphoma diagnosis are able to find accurate disease-specific information, support for their particular subtype of the disease, and have a voice at the federal level – not only in September, but throughout the year."
LRF will culminate Blood Cancer Awareness month on September 30th with its annual North American Educational Forum on Lymphoma – the largest and most comprehensive educational conference for those living with lymphoma. This two and a half day program provides critical information on treatment options, patient support issues, clinical trials and the latest advances in lymphoma research to people with lymphoma and their loved ones. Forum attendees have the opportunity to hear presentations and have questions answered by LRF's expert speaking faculty comprised of leading lymphoma specialists and patient support experts from around the world. The North American Educational Forum on Lymphoma will take place at the Brooklyn Marriott in New York, and is free-of-charge. Registration is required to attend. To register, please visit http://www.lymphoma.org/edforum.
The blood cancers are a group of more than 80 separate, but related diseases, including Hodgkin lymphoma, leukemia, multiple myeloma, myelodysplastic syndromes and non-Hodgkin lymphoma. Lymphoma is the most commonly diagnosed blood cancer in the United States and is the seventh most common cancer overall. For more information about lymphoma and for a complete list of LRF's Blood Cancer Awareness Month activities, please visit http://www.lymphoma.org.
About the Lymphoma Research Foundation
The Lymphoma Research Foundation (LRF) is the nation's largest non-profit lymphoma organization devoted to funding innovative research and providing people with lymphoma and healthcare professionals with critical information on the disease. To date, LRF has awarded more than $47 million in lymphoma-specific research.
For additional information on LRF's programs and services, visit http://www.lymphoma.org.
###