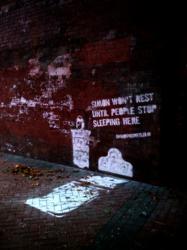 Martin Woods said "I think sometimes we just take for granted just how lucky we all really are."
(PRWEB) September 29, 2011
Leeds based digital marketing company Blueclaw is sleeping on the streets of Leeds this month in aid of homeless charity Simon on the Streets in an effort to raise both awareness and funds for the homeless in Yorkshire.
Martin Woods, David Wilding and Blueclaw's very own Simon (Belfield) will be representing the Blueclaw team on the evening of the 29th September. They will experience the hard reality (literally) of what it is like to sleep on the streets with only a cardboard box to protect them from the elements.
Fergus Clawson, Managing Director of Blueclaw "Working in east London as a youth worker fifteen years ago I worked with a lot of youth homelessness. This experience completely changed my outlook on life. There should be no homelessness in the UK today!"
Simon on the Streets has been working with the branding agency McGrath O'Toole over the past month to increase awareness across the city of Leeds. They have produced a series of highly successful graffiti based artworks at key locations around the city centre. The pieces of art are stencil based representations of bedrooms in locations such as under railway bridges. The hard hitting installations actively encouraged people to engage with the campaign by adding Twitter hash tags to allow them to search for mentions of the charity easily on the micro blogging network.
This is the first year that Blueclaw is participating in Simon on the Streets and they have already managed to raise two thirds of their target. Working in the SEO (search engine optimisation) industry Blueclaw understand the real power of Social Media and will be micro blogging using Twitter throughout the night to log a diary of their thoughts and feelings. You can follow them @blueclaw and by searching for hash tags #iamwithsimon and #iamwithsimonbc throughout the night
.
Blueclaw's Martin Woods (@mocwoods), SEO Analyst said "I think sometimes we just take for granted just how lucky we all really are. We are all guilty of not doing enough to help others less fortunate than ourselves. Simon on the Streets is a real grass roots charity that provides help which in stark reality saves lives every day. It's easier than you think to become homeless through no fault of your own. If we can help just one person by raising funds for this amazing charity then it's all worth it."
Blueclaw's David Wilding (@SEODavid), SEO Manger said "Simon on the Streets is a really worthwhile project, providing help and support to some of the most vulnerable, and forgotten, people in society. The outreach work that Simon on the Streets does is truly unique and reaches out to individuals who otherwise might never be reached by the traditional homelessness services and gives them a chance to change their lives for the better."
Blueclaw's Simon Belfield (@SimonBelfield), Link Builder said "A lot of people don't realise the seriousness and the amount of people that are out on the streets each night trying to just survive. With all the recent cuts from government funding for charities it's more important than ever that we all give a bit back to society."
###