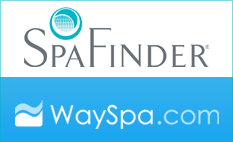 The new SpaFinder and WaySpa relationship will continue to help consumers find the perfect wellness/spa experience for themselves and the ideal gift for others
New York, NY (PRWEB) September 28, 2011
SpaFinder, Inc., the world's largest spa and wellness marketing and media company, and WaySpa, the leading spa marketing enterprise in Canada, today announced that they have reached a preliminary agreement in principle, which will allow them to jointly offer the web's most complete selection of spas, yoga, Pilates and fitness studios, wellness practitioners and beauty salons to consumers in Canada. The companies also plan to significantly increase regional editorial content, including features on spa and wellness treatments, trends and tips.
Under the proposed venture, WaySpa CEO Jeremy Creed will be responsible for SpaFinder's Canadian websites, which will be available in English and French. He will also lead the expansion of SpaFinder's social commerce division, SpaRahRah!™, and its global wellness initiative, Wellness Week™, in Canada.
The venture will allow consumers to use either SpaFinder or WaySpa Gift Cards at up to 2,000 locations across Canada. In turn, Canadian spas and related businesses that are part of the enhanced network will reach new clients looking for their next spa or wellness experience.
According to the recent Coyle Research Report, more consumers turned to SpaFinder.com for spa/wellness information than Google, Yahoo! and Bing combined.*
"There is no question that WaySpa is the brand leader in Canada," said SpaFinder Chairman & CEO Pete Ellis. "No one knows more about connecting Canadian consumers with the country's spa and wellness businesses than Jeremy. We are proud to be associated with the individual who created WaySpa, a trusted brand that continues to exceed its customers' expectations."
SpaFinder and WaySpa expect the new marketing venture to be fully implemented by the end of 2011. Consumers will then be able to redeem their gift cards or certificates at any of the participating businesses and to explore more content on SpaFinder.ca and WaySpa.ca.
"SpaFinder is the spa and wellness brand that really matters most to both the industry and to consumers," said Jeremy Creed, CEO of WaySpa. "Our mission is to offer more choices to spa-goers who are seeking the best spa/wellness experience and a better gift card product to Canadians. This alliance will allow us to continue to fulfill that promise."
SpaFinder Gift Cards and Certificates are currently sold in nearly 100,000 retail locations around the globe, including Canada. Blackhawk Network, a leading provider of prepaid and financial payments products for consumers and businesses in the U.S., recently renewed its agreement to be the exclusive distributor of SpaFinder Gift Cards.
WaySpa distributes its gift cards through retail locations such as Shoppers Drug Mart, Walmart Canada, HBC Zellers and Jean Coutu.
"The new SpaFinder and WaySpa relationship will continue to help consumers find the perfect wellness/spa experience for themselves and the ideal gift for others," said Ellis.
Media contacts:
For SpaFinder, Betsy Isroelit, 212.716.1194, betsy [at] spafinder [dot] com
For WaySpa, Jeremy Creed, 416.482.9033, jcreed [at] wayspa [dot] com
About SpaFinder: The world's largest spa media, marketing and gifting company, SpaFinder, Inc., connects millions of wellness-focused consumers with thousands of spas, yoga, Pilates and fitness studios and wellness practitioners worldwide. SpaFinder's media properties include the award-winning http://www.spafinder.com, the Club Spa e-newsletter and blog and the annual NewBeauty SpaFinder Guide to Global Spa, Wellness & Beauty. SpaFinder and its spa-beauty gift division, SpaWish, offer gift certificates and cards that are redeemable at a combined network of over 9,000 spas and salons, and are available at nearly 1000,000 unique retail outlets in 79 countries. SpaFinder Europe and SpaFinder Japan offer regional spa marketing and gifting programs, including localized websites. Currently celebrating its 25th Anniversary, SpaFinder is a privately held company headquartered in Manhattan.
About WaySpa: Founded in 2003, WaySpa is Canada's leading online spa marketplace. In partnership with thousands of spas, WaySpa offers consumers competitive pricing and the knowledge they need to make informed choices using industry-leading search tools that help them find spa treatments and packages and compare spas in their neighborhood, or around the world, quickly and easily. Whether consumers purchase a single treatment, exclusive combo packages or versatile spa gift certificates, shopping at WaySpa is the ultimate in convenience. With up-to-date customer reviews and ratings, WaySpa aims to give consumers as much information as it can to help them make the best decision for their spa-going.
*According to comScore research (March 2011) Google has an estimated 65% share of total U.S. search market. Based on Coyle findings, we can assume approximately 36% of consumers seeking spa/wellness information use Google.
# # #