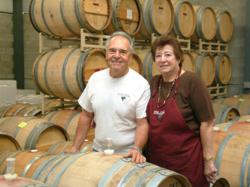 "Passport Weekend is a great opportunity to meet your local farmers and winemakers and maybe even discover something new for your kitchen." - Jamie Johansson, Lodestar Farms
Chico, Calif. (PRWEB) September 29, 2011
The bounty of Butte County specialty farms and wineries is the focus of the sixth annual Sierra Oro Farm Trail Passport Weekend, a self-guided farm tour that includes exclusive wine tasting at 11 wineries and farm-fresh food sampling at 17 farms throughout Columbus Day weekend, October 8 and 9, 2011.
"Passport Weekend is unique because this is the only time all of the farms and wineries on the map will open their doors on the same weekend," said map co-founder Jamie Johansson of Lodestar Farms. "Everyone will have something special taking place at their farm. It's a great opportunity to meet your local farmers and winemakers and maybe even discover something new for your kitchen."
From 10 am to 5 pm Saturday and Sunday, passport-holders can travel the scenic agricultural trails of Butte County, sampling local fare including artisan olive oil, grass-fed meats, specialty nuts, award-winning wines and more. The annual celebration features pairings with local culinary artisans including Sierra Nevada Brewery.
"Because we only do this once a year, we try to offer unique pairings that not only showcase our products but also showcase our community," Johansson said. "We pull out all the stops to make this a one-of-a-kind event."
Passports are $25 per person, include a free wine glass, and are available online at http://www.sierraoro.org, at the Chico, Paradise and Oroville Chambers of Commerce; Bacio Catering in Chico; and Butte County Tri Counties Bank locations. All proceeds benefit the Sierra Oro Farm Trail Association to further develop agritourism in Butte County.
The Sierra Oro Farm Trail is a non-profit association of farmers and business people in Butte County with a shared passion for agriculture and our community. Passport Weekend is sponsored by the Butte County Farm Bureau, Chico Chamber of Commerce and Tri Counties Bank. For more information, visit http://www.sierraoro.org , email info(at)sierraoro(dot)org or call the Chico Chamber of Commerce at 530-891-5556 (800-852-8570).
###