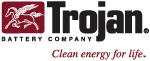 "Adding Trojan batteries to our preferred suppliers list enables our company to expand its selection of top-of-the-line components for clients to choose from when customizing their bus specifications," said Hans Peper, executive VP at New Flyer.
Santa Fe Springs, Calif. (PRWEB) September 29, 2011
Trojan Battery Company, the world's leading manufacturer of deep-cycle batteries, today announced that New Flyer Industries Inc., the leading manufacturer of heavy-duty buses in the U.S. and Canada, has added Trojan's advanced transportation batteries to its list of suppliers for its extensive line of transit vehicles, making New Flyer the preferred aftermarket distributor of Trojan batteries in the mass transit market place.
Trojan's TransPower™ ST1000 Bus & Coach Group 31 AGM batteries are now part of New Flyer's list of preferred battery suppliers for use in its line of custom-built mass transit buses. TransPower will minimize Monday morning "no-starts" while powering fare boxes, fire suppression systems and video monitoring devices. Trojan batteries are engineered for commercial bus operations utilizing isolated and non-isolated batteries, and are designed to minimize the vehicle's life cycle costs.
"Today's advances in commercial bus technology and overall design require innovative battery technologies such as Trojan's line of transportation batteries which address a variety of bus operation requirements," said Elke Hirschman, vice president of marketing for Trojan Battery. "Trojan being selected as a supplier by New Flyer reinforces the fact that choosing the right battery technology for specific transit bus applications is important."
The Trojan TransPower ST1000 Bus & Coach model is a powerful and rugged AGM 31 starting battery delivering 1,000 cold cranking amps, a 200-minute reserve capacity, superior performance and long battery life. TransPower also provides the lowest total cost of ownership over the life of the bus. Contributing to TransPower's high performance and durability are a number of unique design features. Its heavy-duty plate design delivers nearly double the battery life of standard flooded lead-acid starting batteries and its high-density paste formulation optimizes the paste density, porosity and surface area achieving the right balance of high performance power and longevity. The TransPower is housed in a thick-walled, durable polypropylene case that keeps the internal components compressed, protecting the plates from damage caused by shock and vibration. The case also is resilient against engine oil, gasoline and road chemicals. Trojan's proprietary chemistry also allows the bus's voltage regulator to be set at a level that won't negatively affect other onboard systems.
"Adding Trojan batteries to our preferred suppliers list enables our company to expand its selection of top-of-the-line components for clients to choose from when customizing their bus specifications," said Hans Peper, executive vice president of customer services for New Flyer. "As the preferred distributor of this line of products, we can ensure that customers have access to a top quality AGM battery, further reinforcing our commitment to product optimization and delivering life cycle savings."
About Trojan Battery Company
Trojan Battery Company is the world's leading manufacturer of deep-cycle batteries and a longtime battery technology pioneer, having built the first golf car battery in 1952. Trojan batteries provide power for a wide variety of industrial, recreational and auxiliary power applications. Trojan Battery Company, founded in 1925, is ISO 9001:2008 certified with U.S.-based manufacturing facilities in California and Georgia. For more information visit http://www.trojanbattery.com
###