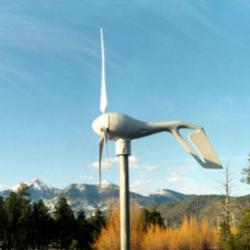 this can power a small sailboat.It also has microprocessor technology for increased performance.
Washington,VT (PRWEB) September 28, 2011
Natural Green Energy Mall has the Air-X Marine, by far the world's number one selling small wind turbine for Sailboats. The Air-X Marine incorporates a new microprocessor based technology that results in increased performance, improved battery charging capability, greater reliability and the reduction of "flutter" noise from the machine.
Here are just a few things that make the new Air-X Marine superior:
More Power: Power never seen from a battery-charging wind turbine. A new alternator, more advanced airfoil and state-of-the-art electronics enhance the Air-X marine's performance by over 30%.
Quieter Operation: The Air-X marine operates quieter as a result of two significant design improvements. The new alternator spins 23% slower and our exclusive Auto-Brake™ regulator automatically slows the blades to a silent spin when the batteries are charged.
Greater Reliability: The new body design efficiently flows excess heat into the wind reducing operating temperature by 20%. The new body also doubles tip-to tower clearance for reliability you can count on during storm conditions.
http://www.youtube.com/watch?v=QNZexDlmV58&feature=player_embedded
###