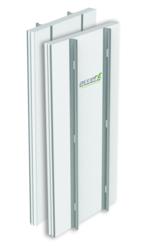 "By partnering with Sobotec, we have the opportunity for a major expansion into the Canadian commercial building market," said SYNTHEON President Antonio Torres.
Pittsburgh, PA (PRWEB) September 30, 2011
SYNTHEON Inc., manufacturer of the accel-E® Steel Thermal Efficient Panel (S.T.E.P.) advanced wall system, has announced a distribution agreement with Sobotec Ltd., Canada's leading manufacturer and distributor of aluminum panel systems for commercial building exteriors. Under the agreement Sobotec will distribute and install the acclaimed accel-E STEP system throughout eastern Canada including Ontario, Quebec and the Maritime Provinces.
"By partnering with Sobotec, we have the opportunity for a major expansion into the Canadian commercial building market," said SYNTHEON President Antonio Torres. "We are delighted to be associated with a company that has such an outstanding reputation for innovation, reliability and engineering excellence."
Established in 1988, Sobotec is North America's largest manufacturer of aluminum panel systems for use as exterior cladding on commercial buildings with an average annual production of 2 million square feet. The majority of its wall panels are fabricated from Alucobond®, an aluminum composite material manufacturer for which Sobotec was a pioneer in developing new attachment systems.
"Our expertise is in metal and composite panel cladding systems, which form the outer veneer of a building exterior," explained Sobotec President Vladimir Sobot. "Our agreement with SYNTHEON allows us to bring together for the first time a full exterior wall system that also encompasses structural and insulation components. This means we can now provide owners, architects and contractors single source responsibility for the complete building envelope."
He added that, while the accel-E panels integrate exceptionally well with Sobotec's aluminum composite panel exterior cladding systems, Sobotec will also be able to deliver and install the accel-E system on buildings where the design calls for exterior veneers such as brick, stucco and other masonry finishes.
"Being in a northern climate, we're naturally excited about the ability to provide a very well-insulated panel that will be very quick to install," he added, noting that the accel-E wall system offers exceptional thermal performance that outperforms conventional framing and insulation assemblies.
The accel-E panels are manufactured using an exclusive process that fuses cold-formed steel framing with continuous rigid expandable polystyrene (EPS) foam insulation. This eliminates air gaps, reduces thermal bridging and heat transference, and blocks air intrusion, resulting in a significant reduction in the energy required to heat and cool the building. By combining framing and insulation into a single pre-engineered system, accel-E panels also streamline the construction process.
"All these features combine to make the accel-E system a natural partner for a leading building exterior company like Sobotec," added Torres. "We are enthusiastic about the many opportunities this partnership will open for both our companies, and for building owners, designers, and builders throughout eastern Canada."
The new agreement was announced to coincide with the Greenbuild® International Conference and Expo, where Sobotec will assemble a full-size mockup that demonstrates how well the accel-E system integrates with Alucobond exterior panels. The display can be seen at the Alucobond booth, #1592. Greenbuild show attendees are also invited to visit the SYNTHEON booth, #1431N.
The accel-E system fully complies with both the 2006 International Building Code (IBC) and the 2006 International Residential Code (IRC). The panels' effective R-Value and U-Factor exceed ASHRAE 90.1 2007 and IECC 2009 Energy Code requirements for cavity plus continuous insulation in steel stud wall assemblies for all climate zones. For more information, please visit http://www.accel-E.com.
About SYNTHEON Inc.
SYNTHEON Inc., a wholly-owned subsidiary of NOVA Chemicals Inc., is a building science company specializing in high-efficiency building envelope systems with advanced component fabrication. SYNTHEON's systemized solutions capitalize on the latest technologies in the marketplace — creating environmentally and economically sound structures. SYNTHEON's global business is headquartered in Pittsburgh, Pennsylvania, with affiliates and joint venture partners throughout the world, including the U.S., Mexico, Chile and India. For more information, please visit http://www.syntheoninc.com.
accel-E is a registered trademark of ACCELERATED Building Technologies, LLC.
###