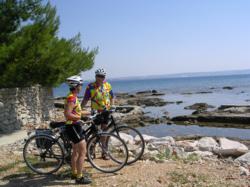 BikeToursDirect will offer more than 60 bike and boat tours in 16 countries for the 2012 season.
Chattanooga, TN (PRWEB) September 29, 2011
Providing unbeatable scenery on land and water, bike and boat tours have become a popular choice for couples, families and groups of friends looking for unique vacation options in Europe and beyond. BikeToursDirect will expand its bike and boat tour offerings to more than 60 tours in 16 countries for the 2012 season to accommodate growing demand for this unique travel experience.
"Bike and boat tours have become increasingly popular, especially for cycle tourists and families who enjoy the option of rest days and experiencing the ambiance of the boat," says Jim Johnson, president of BikeToursDirect. "Travelers who aren't up for cycling each day can participate in a side excursion or choose to enjoy scenery from the deck of the boat. It really is the best of both worlds—and the local cuisine available on board is an added bonus."
BikeToursDirect offers bike and boat tours in 14 European countries, Vietnam, and the islands of Seychelles, and each tour presents a unique boat experience, ranging from small vessels holding fewer than 25 people (barges, schooners, yachts or converted fishing boats) to small passenger boats holding up to 150 people.
For many, being on a small boat is the biggest appeal of a bike and boat tour because, unlike large cruise ships, they don't have to worry about crowds or making a connection. Cycle tourists also enjoy meeting people from several countries and seeing a variety of landscapes and places: countryside, islands, mountains, villages and towns.
"Our clients really enjoy the camaraderie they develop with the boat crew and other passengers," says Johnson. "They also enjoy having a 'floating hotel' to return to each evening because they don't have to pack and unpack every day."
Another big draw to these tours is the price: over half of the bike and boat tours offered by BikeToursDirect are under $1,200 (with most being one-week, nearly all-inclusive tours). A few of the most popular bike and boat tour destinations include:

For the 2012 season, BikeToursDirect will add new bike and boat tours in the Baltic Sea in Denmark and northern Germany, as well as the northern Adriatic Sea along the Italian coast and Sardinia. As BikeToursDirect expands its tour offerings on four continents—Europe, Asia, Africa and Australia—it will continue to add unique bike and boat destinations. The full roster of new tours for 2012 will be unveiled in November when BikeToursDirect launches a new website.
About BikeToursDirect
BikeToursDirect, now in its eighth season, serves as a central resource for bicycle tours in Europe, representing more than 50 tour companies that offer more than 200 tours in 35 European countries and is currently expanding to Asia, Africa and Australia. BikeToursDirect offers a variety of resources to help travelers choose tours and handles the entire booking and payment process. Learn more at http://www.biketoursdirect.com. Telephone: 1-877-462-2423 or 1-423-756-8907. Email: info(at)biketoursdirect(dot)com.
*High resolution photos available on request.
###