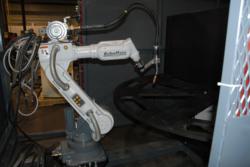 STEM education is crucial to maintain interest in robotics in order to keep the industry moving forward.
Marion, OH (PRWEB) September 29, 2011
RobotWorx, an Ohio-based industrial robot integrator, donated use of one of their website domains to a FIRST Robotics team.
Team987 will use their new web domain, http://www.fantasyrobotics.com, to provide free web-based applications that other FIRST robotics teams can use while designing and constructing their robot for U.S. FIRST robot competitions. A scouting application, a team member manager, a virtual scoreboard, and a community forum represent only a few of the applications that will be available.
Travis Larson contacted RobotWorx' web department in early September about purchasing the domain. Stacey McGill, the RobotWorx Web Team Manager, offered the website to Travis and the rest of Team987 free of charge because they are a non-profit group furthering STEM education and robotic competitions.
"RobotWorx is now an official sponsor for Team987, and we will be putting the logo with a link to the RobotWorx site on Team987's sponsor page and on the Fantasy Robotics homepage," said Travis regarding RobotWorx' website donation. When asked when the website will be operational, he stated that "it should be online in 3 to 4 weeks."
McGill also commented on the RobotWorx-Team987 sponsorship saying "We are excited to be able to assist Team987 and all other robotics teams in their competitions." Commenting on STEM and robotic education, she went on to say that "it is always great to see robotics introduced to youth. STEM education is crucial in maintaining interest in robotics and keeping the industry moving forward."
RobotWorx automates industrial processes by integrating industrial robots and workcells into companies' facilities. RobotWorx is a Motoman Robotics Solution Provider, FANUC Robotics Authorized Integrator, and KUKA Robotics Official System Partner. Founded in 1992 and located in Marion, Ohio, RobotWorx serves companies in the aerospace, food processing, packaging, automotive, and other industries. For more information about RobotWorx or industrial robotics, visit http://www.robots.com.
###